Tip: Google's Indexing - Improve your rankings by checking your on-page factors
Posted on 30 April 2019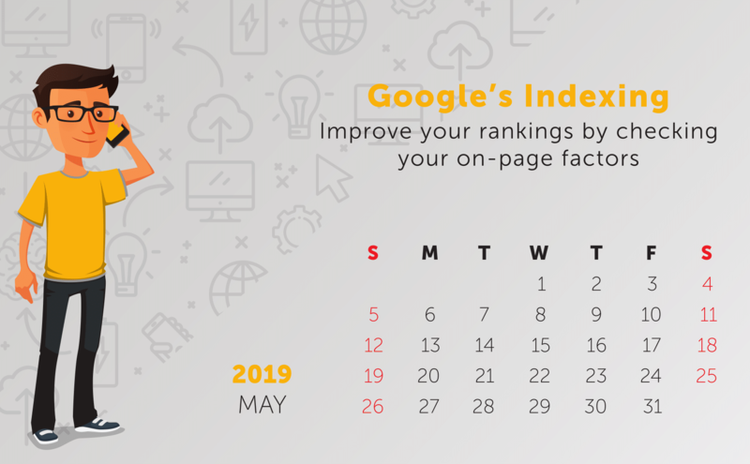 Google reviews your website via a Google Bot, a computerised engine that runs over the code of your website to find out what the website is about. In order for Google to rank you for the key words and phrases you need to make sure these are strategically placed throughout your website.
The first step is to write a list of common words and phrases that a potential client will type in when looking for your business, as well as your products or services. Test some of these words in Google search to see what Google suggests when you start typing a keyword in.
Write up a list of common challenges your clients face eg. for an accountant it might be 'how can I reduce my taxes for 2019' or specific ones like 'what is the best accounting software for a small business'
Then add to this list and refine it by highlighting the words that are the areas you specialise in (your strength areas) and that you want to be recognised for (using the words that your customers use, not necessarily industry terms)
Then add in your locations - this is extremely important for businesses that are wanting business from a specific area.
Cull this list by highlighting the words that are really important to you. Note, initially you can just focus on these words/phrases and then over time you can look into the others by adding additional content to draw some attention to these other keywords.
Strategically place these keywords in the right places so when Google's bot comes through it is picking them up. (NB/ you need to make sure you also have some content written on the page relating to the keyword/phrase you are focusing on)... and that is why Google recommends writing the content for your audience and not Google.
Unique content: Your content should not be duplicated within the same website or from another website as Google will pick this up and penalise you
URL (the page's website address): A good page name in a URL provides both humans and search engines an easy-to-understand indication of what the destination page will be about. The URL also tells Google where it is placed in the hierarchy of the website eg. www.website.com/products/best-widget1.html
Title Tag: This tells Google and site visitors what the page is about. And are used in 3 key places a. Search engine results pages, b. Web browsers and c. Social networks.

Keep them around 50-60 characters
Don't duplicate other page titles
Avoid new page, home in your titles
Put important keywords first
Write your page title for your customers
If you include your company name, put it at the end
Use some descriptive words in some of your page titles (like how to, our ultimate, top 11 tips)
Every so often also include your location eg. Emergency Plumber available 24/7 | Marcus's Plumbing, Coldfield

Meta Description: This is your sales pitch that is often shown in Google results when someone does a search. Survey Monkey found that 43.2% of people click on a given result based on the meta description alone. Keep them between 50-300 characters (Google prefers them just under 160 characters), and make sure each page description is unique - no duplicate meta descriptions!
Body Tags: Heading 1, Heading 2, Heading 3. The hierarchical structure of these headings (which Bloomtools sets up for you) lets Google know what is the main heading, sub headings and lower headings on a page. Just like a site visitor, it makes it easier for them to read the content on the page (and skim read to determine whether the page has the content it is after).
Image file names: When saving an image to place on your website, make the name relevant to the subject matter/keyword instead of just a bunch of random characters.
Alt Text: Adding an Alt text to an image, lets Google know what the image is about. This is a great place to include your subject of the page within the image alt text to further enhance its importance to Google. Tips:

Do not stuff it with multiple alternative keywords eg. pancake, hot cake breakfast, top pancake recipe. But make it a simple description of what it is eg. Banana Pancakes cooked with maple syrup.
Don't include the words picture, image etc in your alt text

Contextual Links: Links from within the content on your website to other pages for more information. Show the most important page links on the home page, and then as you read content on the website, the links help the user learn more (and lets Google know which content is referred to most).
Content: Include keywords / subject matter within the first 100 words a few times.
Secure website: All Bloomtools websites are secure (SSL certification), but to check your website address should work with a https in front of it vs just http: https://www.yourwebsiteaddress.com
If you would like the Bloomtools team to do your SEO for you, please contact your Bloomtools Consultant - they can do an audit for you, to show you what is needed to be worked on and the costs on a monthly basis to do this for you (along with monthly reports, so you know how we are progressing).