Tip: Stand out - Review your home page and overall website design
Posted on 1 November 2019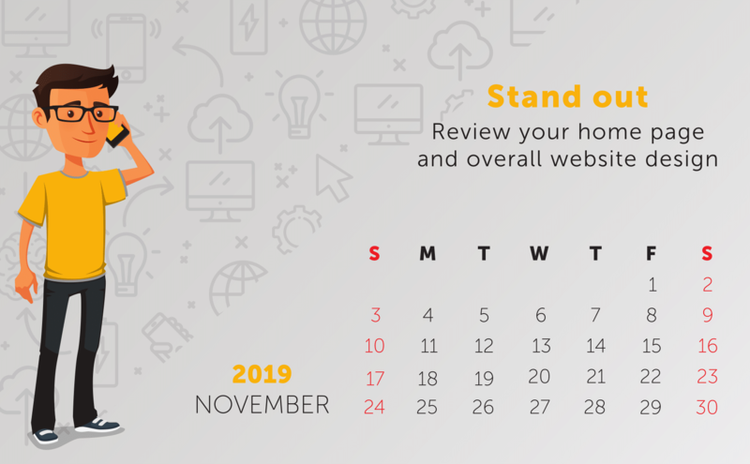 As devices, technology and how people use the internet changes, so do the design trends to match these, as well as user experience (UX). Therefore a site designed 3 years ago can quickly look out of date. But why does this matter?
Unfortunately, perception is a big decision maker on whether someone will go with your business vs. another. If a website looks out of date, guess what they will think of the business? The internet makes it really easy for people to compare businesses or products against one another - and often for common products or services, it is sometimes just the website itself that gives them the confidence to go with (or contact) one business or another.
As the primary devices websites are being viewed on have changed for many industries (more and more people are viewing websites on mobile devices than desktop computers), the design has also changed to guide people through the right path to take action.
Your business might also have changed and as it evolves you will have different focuses on target markets, products or services you are keen to work on harder. This needs to be reflected on your website to complement what you are trying to achieve in your business.
Bloomtools clients are very lucky as we keep all the technology up to date for you. This means you don't need to rebuild your website every few years like most - all you need to do is give your website a bit of a paint job (or redesign) to keep it looking modern and fresh, especially on the devices your audience is viewing it on.
Tips:
Have a look around at your competition - how have they progressed? Have they surpassed you in regards to appearance? It is also just as important to look at how they are making themselves stand out - their strengths, points of difference, how they make people feel comfortable dealing with them - as after the initial look and feel, these are the next deciding factors for a decision on whether to take action with you or another business.
Have a look at other businesses in different geographical markets that are doing what you are to gather ideas on how you can jump ahead of your competitors and stand out.
Talk to your Bloomtools consultant, as we are constantly reviewing and keeping up with modern design standards all the time. We will also be able to suggest ideas as well.