What do your customers say about you? How to get great online reviews
Posted on 22 February 2017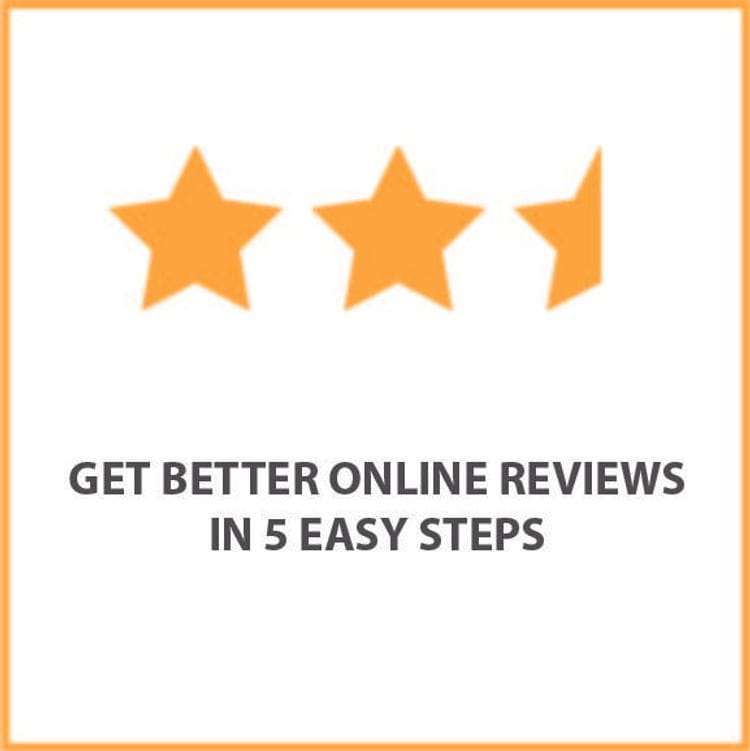 There is no quick fix or button you can press to get great reviews. It takes effort, and it's not easy - but I can assure you it will be worth it. After all, 92% of consumers now read online reviews. Online reviews also shape important opinions and thoughts customers form about your company; 40% of buyers form an opinion of a business after reading just 1-3 reviews.

So what can you do to help your business get great reviews? Well, the single most important ingredient is delivering an exceptional customer experience. 70% of buying experiences are based on how the customer feels they are being treated. Think of ways you could improve your customer's experience, and don't be afraid to ask customers what would make their experience better as well.

While treating your customers well is by far the most effective way to get great online reviews, there is a bit of work that needs to be done to get there. We've put together a list of steps you can take to help get better reviews.

1) Choose the right customers

Ask customers who are getting great value from your service or product. They can be return customers or customers you've had for a long time. These are the customers who are more than likely going to give you the shining, positive review you are looking for. You will never get what you want if you don't ask!

2) Choose the right time

44% of consumers say a review must be written within one month to be relevant. With that in mind, ask for a review promptly and make it super easy. This way they do not have to think back and try to remember the details. For example, ask them to give you a review when sending their invoice, reinforcing the value they get when doing business with you.

3) Ask in the right way

You should never ask your customers or clients for "positive" reviews, instead just ask for their honest reviews in the right way. When you ask for honest reviews, you are building trust and credibility amongst your target audience. Even if you get a less-than-stellar review, this is an opportunity to improve this area of your business.

When asking your customers for a review, remind them of the value they get when doing business with you.Try not to be too serious, get to the point and make sure you make it easy for them.
It is often more effective to verbally ask your client for a review, and if they are happy to give you one... help them through the process. For B2B clients, this is a great way to teach them how to get reviews on their business too.
The other option is to send them an email (after purchase, becoming a client). Here's an example script that can help you frame your message:

" Hi (client's name),

I've just noticed that you've bought another product from us (mention product's name and something great about it). We're so happy that you've gotten value from our business!
If you've got a few minutes, could you please leave us an honest review (on the website, on our Facebook page, on Google..etc) Here's the link (insert link).
Even a few lines are very much appreciated. This review will help us improve our business so we can better serve awesome customers like you.
Thanks for your time, let me know if there is anything I can help you with :) "

You can easily send this message out to your contacts with our DBM tool, and make a survey with our survey builder, just ask us how!

4) Follow up and ask again

In the DBM tool, you can easily see if your email has been opened or not. If it hasn't, it doesn't necessarily mean that the customer doesn't want to leave a review. You may have caught them at a bad time, or the email simply got pushed to the bottom in the average person's busy inbox.

Here are a few steps to sending out a follow-up email:
Change the name of the email, but use the same content. Example "Just Wanted to Say Thanks" to "Quick Question"
Wait a week and re-send it to the people you have not received a response from
5) Respond to all reviews

Even if it's a bad one especially if it's a bad one! This gives you the opportunity to prove that your business has excellent customer service. Just remember, having a great business is about building relationships with your customers. By responding to all reviews, you are showing your customers that you care about what they think. A simple "thank you", like or tweet goes a long way. Here's a great article on how to deal with those not-so-pleasant reviews.

Reviews help boost your businesses profile. So why not get in touch with us on how we can help set you up to make the process super easy for your customers.
* Statistic Sources:
http://www.forbes.com/sites/blakemorgan/2015/01/26/how-to-win-at-customer-service-hire-people-who-like-people/#399c48691072
https://www.brightlocal.com/learn/local-consumer-review-survey/


Author:
Tracey Voyce
About: With more than 30 years business management experience, Tracey Voyce is the CEO of Bloomtools. Tracey has owned and managed many businesses and spent several years training and motivating coaches at the world's largest business coaching franchise.
Connect via:
LinkedIn