Why You Need An FAQ Page On Your Website
Posted on 15 October 2020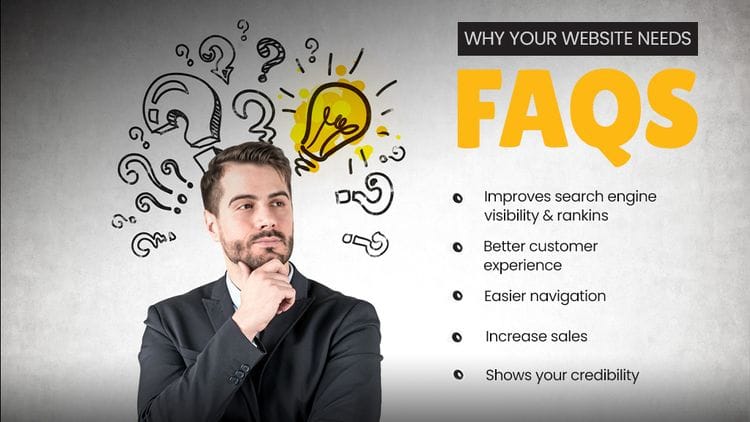 Frequently asked questions pages (FAQ) or Q&A pages are an essential addition to your website - other than your homepage, it's most likely the second place a searcher will go when they visit your website.
An effective frequently asked questions page can help inform, educate and guide a user through your products or services.
If you don't currently have an FAQ page in place, you could be missing out on an array of benefits that contribute to the success of your business.
What are the benefits of an FAQ page?
Easier navigation
While the answers users are looking for most likely exist somewhere on your site already, this doesn't mean they're obvious or easy to find.
An FAQ page reduces the likelihood a potential customer will click off your website to seek out your competitors when they can't find what they're looking for.

Better customer experience
Creating easier navigation on your website also makes for a better customer experience. Linking to varying products and services through your FAQ will help your customers find exactly what they're looking for, increasing the opportunity for conversions.
It's also a good spot to encourage users to reach out to you if there's any questions the FAQ haven't covered to provide that extra touch of customer service.
Improves search engine visibility & rankings
FAQ pages are of significant value to search engines - they provide the information Google needs to understand your business better.
High quality content helps your business get found in the search engines and the FAQ page is the perfect place to emphasise your products and services. You can also include long-tail keywords and questions that potential customers are searching for.
Implementing an internal linking strategy in your FAQ (further discussed below) will also encourage greater visibility in the search.

Increase sales
A highly optimised FAQ page has the potential to attract searchers to your website who might not even know your business exists.
By providing valuable answers to search queries and questions on your website, you can improve the chance a user will click through to learn more, providing the opportunity to attract a new customer and potentially a sale.
Additionally, when your products or services provide the information a searcher needs to solve their customer problem, they're more likely to follow through with a conversion.

Shows your credibility and builds trust with customers
An advantage of FAQ pages is the ease in which you can demonstrate your expertise in your product or services.
By providing informative answers to a searchers question, you can show that you're the solution to their customer problems. It demonstrates your knowledge and authority in your particular field, helping the customer feel you're a trustworthy source for them to work with.
How to optimise your FAQ page:
Keyword research
If you're not certain what your most asked questions are or you're looking for ideas, keyword research is a great place to start.
When you search for your keywords, pull out any phrases and start with the who, what, when, where, why, and how. This will help you decide on how to best phrase your questions and which ones will be worth answering the most on your FAQ page.
Think about the most natural way a searcher would type the question into the search engine and how it would be phrased - this is the best way to approach the structure of your question. This will add to the possibility they'll appear in the search results for that particular question or phrase.
Additionally, you can contact an SEO specialist to assist in researching keywords and potential questions for your page.

Ensure the content is high quality
Consider your FAQ page like any of your other content pages - they require ongoing care and attention. As new questions or problems arise that you perhaps hadn't thought of before, the FAQ content will require updating.
High-quality content helps your customers understand what your services and products are with ease - keeping it clearly structured and concise is an important part of a successful strategy.
This also refers to your landing page content - if you're directing potential customers from the FAQ page to other landing pages that promote a product or service, particularly where a conversion can take place, you want to ensure that content is also high quality to avoid losing the customer and the conversion.
For help with your content, consider outsourcing to a content specialist who can ensure it's SEO optimised.

Group by category
An effective FAQ page should start with the most commonly asked questions first, then filter down to ones that are less common or more technical. It should also add to the ease of the customer experience, which is where grouping by category comes in.
Grouping by category helps the user find their answers easier and also alerts them to other potential questions they hadn't thought of beforehand.

Have correct schema markups
Google wants to answer search queries quickly, with the aim of being able to display these directly on their own results page as "featured snippets". This is where having the correct schema markups comes in.
As FAQ's have their own unique markup, it's important that you've got everything formatted correctly to increase the chances your question and answer will appear directly on Google's results page.

Use internal linking options
As mentioned earlier, there's a good chance the information users are looking for already exists on your page somewhere. This is beneficial for you though, as it means there's opportunity to create strong internal linking within your website.
By answering questions and providing links to areas where they can find more information, you'll be adding to your internal linking strategy (which also helps your SEO!)

While you should always be sure you're answering questions and providing relevant information throughout your website content, a FAQ page provides an all-in-one spot where you can show that you're capable of solving customer problems and answering search queries.
If you're ready to grow your business or need help developing your FAQ page, feel free to get in touch with our digital marketing and internet specialists on (07) 5636 3700 or book a consultation.