5 Hot Tips For Improving Your Content
Posted on 18 June 2020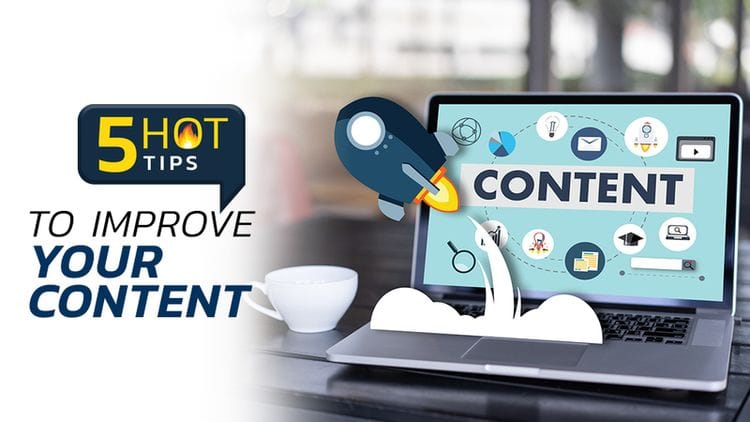 We're here today to give you tips that you can do at home to take your content to the next level. Although digital marketing has grown exponentially over the years, content still remains one of the most important aspects of a strategy. One piece of content can be used in multiple ways, leveraging greater overall results. With one website blog, you can also create a social media teaser, Google My Business listing teaser and send a teaser through an email campaign - all of which increases website engagement, traffic, SEO and provides additional value to your clients. By simply creating blog content, you're keeping your business at the forefront of your audience's minds.
Content also remains a relatively more affordable strategy to invest in, raking in on average 3 times more leads than paid search advertising.
(For further information on why your business should focus on content, we've got everything you need to know right here)
1. Do some research first
Research isn't as daunting as it sounds, though it can take a bit of time and out of the box thinking to really make the most of it. The good news is that once your research is done, you'll have a much better understanding of how to best curate your content to your audience and the best opportunities at success.
Understand your buyers
You might already have an idea of who your buyers are, which is a fantastic start. It's also a good idea to think about this at a more critical level.
This is important because it helps you understand exactly how you can not only get your audience's attention and attract them towards your product or service, but helps you learn how you can encourage them along the buyer's journey. Where possible, break your audience into smaller groups by different demographics and look into ways you can help each of these groups on an individual level through the sales funnel.
Keep a list of your keywords as reference
First of all, the first rule of keywords is to avoid keyword stuffing - content should exist to answer the questions of your potential customers, guiding them through your site and helping them understand your purpose. Keyword stuffing with the intention to try and rank higher in the search will not work. Although the search engine crawls for mentions of keywords and related concepts, your page itself has to be of value to users as well, which is why it's important to use your keywords in a natural way that is comprehensible to your site's visitors.
Keywords work as a way to optimise your site - that's why it's important to make sure they are in the right places for the search engine to find them. Below is a quick list of some of the places to make sure you've got your keywords implemented:
Within the URL
In title tags
In your meta-description tags
In image & video file names
In image alt attributes
Additionally, keeping your keywords as a reference can help you generate ideas for content. If you want any help ensuring your keywords are in the right places to optimise your site, contact our team here for an SEO review.
2. Stay organised with planning
Depending on the time you have to dedicate to content creation, you may choose to keep it in-house or outsource to a content writing service. In-house content creation can be a full-time role you hire or be something you do yourself as a business owner. If you choose to keep content in-house, there's several tools you can use to make sure you're organised and planned with your posting schedule. These include applications such as Hootsuite and Buffer or you can keep it simple with an excel spreadsheet.
Alternatively, you can stay organised by outsourcing your content creation to an external service that can save you time on doing research, planning and writing the content, all while ensuring quality. If you're looking to outsource your content, you can take advantage of our writing services here.
3. Stay authentic to yourself
If you decide to keep your content creation in-house, it's important to stay true to yourself and create original content. This will help bring your personal voice and that of your brand into your content. Think of it as a way for your customers to learn who you are and your expertise in the area you work in. Alternatively, this still rings true if you outsource your content, as a fresh view on your brand's personality can bring an added edge that might not be seen from an internal perspective.
4. Boost your writing
Did you know 75% of internet users say they read blogs regularly? By ensuring these easy additions are included in your content can really take your writing to the next level. They don't take a lot of extra effort, but can increase the content's compellingness to the audience.
Headlines/subject lines that draw attention
Coming up with an appealing headline or subject line is one of the more simple measures you can implement to draw more audience attention. 80% of readers will read your headline, that's why it's super important you make it a good one.
Easy, organised layout
Easily the number one rule of content writing is to avoid big blocks of text. Avoid, avoid, avoid! Nobody enjoys having to read a huge block of writing, it's hard on the eyes and equally hard to follow; you'll lose readership FAST this way. It's so important to break up big slabs of text and it's pretty easy to do so, as well.
Use lists & bullet points
Break up texts with images
Use sub-headers throughout: this also makes sure skim readers are still taking in your message, or keeps them on the page if what they're looking for is made easy to find.
5. Make sure you're providing answers
Think about how and why you personally search online. Say you're looking for a particular solution to a problem you have that a service or product could provide. That's how your audience is searching, too. It's important not to tell your audience "our product/service does this or this" but rather explain how your service or product is going to solve their problems. You know what kind of problems your business is the solution to, so make sure you tell that through your content. This will keep customers happy on their search; it'll also reaffirm their trust that you're the right business for them to convert with.
Key Takeaways
Take time to do your research - both on your audience and your keywords
Organisation is key
Avoid keyword stuffing in your content
Be original and true to your brand
No bulk text in your content
Provide the answers your audience is looking for
Keep it fresh; don't be afraid to create your own branding voice
Want some extra help with your content? Feel free to reach out to one of your internet marketing specialists on (07) 5636 3700 for more information, or book a consultation today.