Why Your Business Should Focus On Content
Posted on 30 April 2020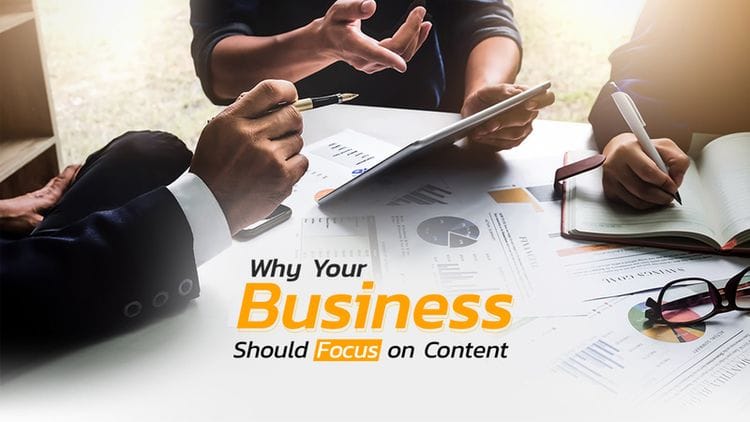 Despite the growth we've seen of digital marketing tools and strategies over the years and the variety that now exists, content still remains at the heart of marketing strategies. Content is essential to your marketing strategy in ways you may have not even considered. We're here to discuss why business owners shouldn't look past the effectiveness of quality content as a key component of their marketing strategy - and by quality we mean not pushing out content for the sake of it, but focusing on quality.
Content can be as simple as writing a blog or newsletter. The subject can be anything relevant to your business or speciality; are you a landscaper with tips on the upcoming season? Alternatively, you could write about a recent event you held or the local team you've sponsored. You could also create an infographic, webinar or podcast - regardless or your choice of medium, your focus should be on creating authentic and unique content that's informative, entertaining and relevant. The opportunities are endless; it's all about being creative and utilising your knowledge and expertise to really reap the awards content marketing can bring.
What can content do for you?
Drive your SEO and improve your Google rankings
High-quality, unique (hasn't been duplicated from another business) content is a driving force behind rankings on search engines and can help you work towards strong SEO. By including relevant keywords within your content, search engine crawlers are influenced to find your website and rank it higher when it's relevant to the search topic in question. Google also looks favorably upon websites that are engaged with and regularly updated. It's important to avoid keyword stuffing in your content, though, as this not only can make your content horrible to read but is frowned upon by the search engines. If you write content focused on your end user, what they want to hear, the language they use, you will do better than just writing content to match certain keywords.
Save time
Although you have to dedicate sufficient time to creating and writing content, in the long run it saves you time. How this works is that once you've created a piece of content, it's good to go across various platforms; content is efficient in the sense that it's versatile and shareable. If you've just written a blog for your website, you could now send this out to your subscribers via email and share it to your social media. Only 23% of social media posts include a link to a blog which means there's ample opportunity to have your blog stand out in the social media universe. With one piece of content you've ticked the boxes of improving your website (and SEO!), engaged social media and activated your email marketing campaign. All of which saves you time and energy, while adding value to your clients. If you need help, remember at Bloomtools we have a team of Content Writers who can do a variety of this work with you and for you.
Further your reach and spread brand awareness
When you share your content across platforms, particularly social channels, you increase the chances of this content being shared further. Not only that, you can also reach different demographics on different platforms. Whether it's through the share feature posting straight to someone else's social channel or website, or a user sending the shared link to a friend; this means your content and your business's brand name is going further. 75% of internet users say they read blogs regularly - the demand for content is there and if you do it well enough, there's a good chance it'll be spread around, as well.
Generate leads
Creating interesting and insightful content that is relevant to your audience increases the chances they'll stay on your page longer and perhaps look around even more. 72% of marketers say content marketing increases their levels of engagement on their website, ultimately driving more leads. Content works best when it's less about sales-y adverts and more about encouraging authentic engagement. Another way your engagement can be increased is by utilising survey and competition type content; this also helps you build a database of interested consumers you could perhaps convert at a later stage.
Improve conversions
As mentioned above, when you create high-quality content, it generates more leads, which then in turn increases your potential customer base. Showing that you're knowledgeable in what you do through your content and that you regularly update your website legitimises the online presence of your business, allowing potential buyers to engage with you and make more informed purchase decisions; with this information, they'll be more confident in following through with the decision to buy.
Builds credibility and trustworthiness
Think of content as being the opportunity to talk to your consumers without being face-to-face; about who you are, what you know, and how your business can help them. Maybe a consumer is sceptical about whether they should hire your services so they head to your blog. After reading an informative piece, filled with knowledge on what you do.specialise in, a potential customer will be more inclined to consider you a trustworthy business. Let your blogs speak for you on your expertise in your field and industry.
Helps generate backlinks
Users love to share informative, knowledgeable content - whether that be on their social media or even citing you in their own article or blog; if you've got expert knowledge or great tips, put this in your content! When other websites link to your website this creates a backlink. Backlinks are viewed favourably by Google when deciding whether your content is relevant enough to rank.
What now?
Quality content can be the backbone of your marketing strategy. Remember how easy it is to tick multiple boxes of your strategy just by allocating some time to content creation. Maybe you're thinking, "but I'm not a writer or what can I write about?" Not to worry, if you need some ideas on where to get started, we've got some for you right here. All it takes is a bit of time, creativity and passion; if you're passionate about what you do, the local people you support or the team you have, you've got something to write about! The internet is a huge place of learning, so share what you know - the opportunities really are endless.
If you're looking for more information on content, our blog has you covered. Or, if you want some extra help maximising your strategy this year, feel free to reach out to one of your internet marketing specialists on (07) 5636 3700 for more information, or book a consultation today.