7 Reasons Why Your Business Needs A Newsletter
Posted on 28 January 2021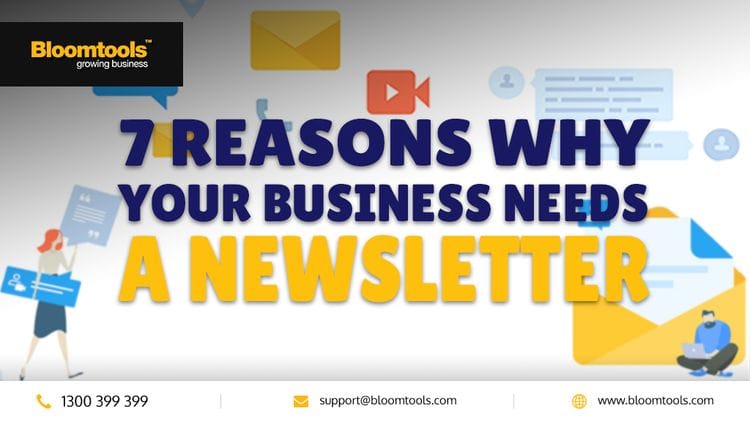 Newsletters may seem like an old-school method of marketing to your customers but with email marketing at the forefront of most modern strategies, newsletters are still as relevant as ever.
The purpose of newsletters is to give those within your email list updates regarding your business, your products or anything valuable or interesting - while they're not generally a direct sales tool, they're effective ways to communicate with your customers.
The statistics speak for themselves: email marketing generates on average $38 for every $1 spent and 77% of consumers say they prefer permission-based marketing from emails. If you're not implementing a newsletter within your email marketing, now's the time and here's why:
1) Cost-effective
Without a doubt, one of the most persuasive arguments in favour of newsletters is they're a fairly inexpensive, yet effective, addition to your marketing strategy. This is particularly true if you're already implementing email marketing and have a database marketing system in place. (If you don't, we can help!)
Customers are increasingly picky about what types of emails they allow through to their inbox - if they're already subscribed to you and in your database, they've given you a vote of confidence that they feel you're worthy of their time and energy. This saves you time and money, allowing you to build on your sales with current clients.
2) Build credibility and strengthen relationships
Regular communication with your customers is crucial to your success - email marketing is a simple and effective way to directly create a touch point to help build trust and strengthen relationships.
Your newsletter can be used to further your branding, motivate your customers to take action and add value to the relationship. It also shows your database of clients that you appreciate their loyalty to you by not simply forgetting about them after the first sale or purchase.
You're also able to work on establishing your credibility and expertise by providing bits of information, showing customers that you have the knowledge to provide solutions to their problems.
3) Reach any device
With mobile opening rates higher than ever before, being able to reach your audience at all times means you can find value in the growing popularity of mobile. Mobiles accounted for 61.9% of email opens in 2019 - if you are communicating with your customers regularly, it keeps you at the front of their mind.
With your newsletter, it's a quick and easy source of communication straight to the mobile in the hands of your customers!
4) Provide information professionally
The underlying benefit of newsletters is providing information, which is a part of most of the other factors in this list. But newsletters are both effective and designed to make sure your company looks professional.
Newsletter templates are designed with your logo and colours to align with your branding, fully customised to promote your overall image.
Additionally, you don't have to force consumers to seek out information - you can deliver it to them directly, making the transfer of important news easier than ever.
5) More data for you
Newsletters can help you understand what does and doesn't work with your audience. Email marketing provides ample data that are performance indicators. These insights will help you craft your newsletters with content that better addresses the interests, needs and wants of your customer base.
This data is also valuable for other areas of your marketing such as blogs/content creation or social media posts.
6) Increase web traffic
Newsletters effectively open channels of communication between you and your customers.
You can encourage them to visit your website straight from your newsletter when you make announcements or provide information about content that might be of interest. More visits to your website means greater opportunity for converting visitors into conversions and sales.
7) Reward your customers
When your customers are signed up to your email updates, the hardest part is done. Their subscription to your updates implies they're already interested in what you have to offer and want to be updated on your future products or offerings.
Why not use this as an opportunity to reward them for their loyalty?
You can provide special offers (such as discounts) or announcements through your newsletters that reward your customers for remaining subscribed to you.
What sort of content can you promote through newsletters?
Upcoming sales, promotions
Special event details
Your latest website content or updates
Encourage them to participate in contests, fundraisers or events you're holding
Latest product or service roll outs
Introduce new staff members
With these benefits in mind, now's the perfect time to get started with newsletters - a simple and effective addition to your email marketing strategy and overall marketing efforts.
If you're looking for assistance in getting started with newsletters or email marketing, learn more about our digital marketing services here or get in touch with us on (07) 5636 3700 or book a consultation today for more information.