5 Common Blogging Mistakes Businesses Make
Posted on 19 March 2021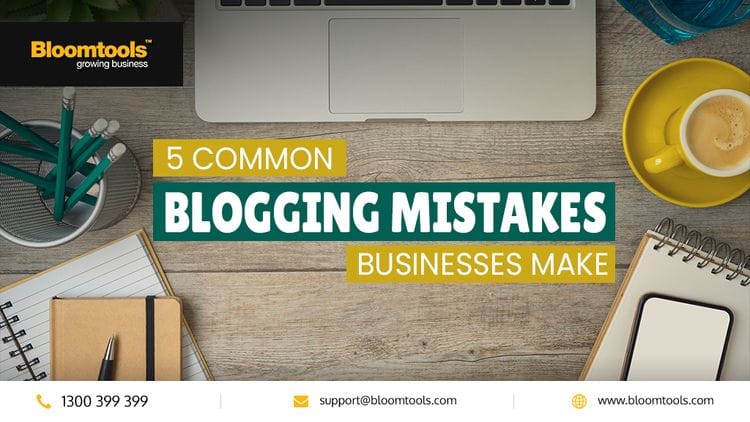 Did you know increased website traffic, new leads and strengthened customer loyalty are all perks of having a blog for your business?
Though digital marketing is constantly evolving, the blog has remained one of the most effective tools available.
Recent surveys revealed that 75% of internet users said they read blogs regularly, offering a substantial opportunity for businesses to engage with their audience.
It's pretty clear that blogging should be a priority for your business. While it's almost as simple as using your knowledge and expertise in a creative manner, there's also many common blog mistakes businesses make when they approach their blog strategy.

1) Confusing blog tiles
When trying to grab the attention of an audience, you only have mere seconds which means a confusing or boring headline can result in your content being overlooked.
Creating a blog title that's informative and to the point will help engage your audience, encouraging them to click through and read.
You have mere seconds to grab a reader's attention, so a boring, confusing or bland blog title just won't cut it. You need something that's to the point and informative. Ideally, your title should be something that will not only make a person want to read your post, but also make them want to share it with their friends and social network.
2) Irrelevant content
Content should always be relevant to your business. While having a fun idea prepared for your blog is not necessarily a bad thing, if the content isn't relevant to your business, it won't serve you as effectively.
Each piece of content you produce should be connected to your business and your area of expertise in a way.
People don't like to feel as though they've been hoodwinked or had their time wasted, so don't tempt them to your site with content that has nothing to do with what you're actually offering.

3) Not utilising sharing options
A significant perk of creating a blog saving yourself both time and effort by sharing the content across platforms. It's one of the most simple and effective ways to grow your reach and grab the attention of your audience.
Writing quality pieces for your blog is all well and good, but it's so simple to share your blog across various social media channels that it seems silly not to!
Not only does this aid your promotion, but it saves you time from creating alternative content. You can also use this as part of your email campaigns.
70% of people prefer to learn about a company through articles rather than advertisements so it's worth sharing your blogs to ensure no matter how a potential customer goes searching for your business, they'll have easy access to your blogs.

4) No regular posting schedule
Consistency is key when it comes to blogging. It's pretty simple: the more you blog, the more leads to your business you acquire.
Blogs provide value to customers, but they also speak for your expertise, your business and how you can help solve customer problems.
Depending on your business, blogging frequency can range from a weekly, a few times a week or monthly.
While it sounds like a huge time commitment and effort to sit down and write often enough to post a blog, the good news is, you can easily outsource this task to an external provider!

5) Not optimising for search engines
Another commonly overlooked aspect of blog creation is ensuring the content is optimised for search engines. While the main priority is relevancy and creativity, your efforts may be in vain with a lack of proper SEO techniques.
SEO is a crucial aspect of your digital marketing strategy, as it'll assist in having your content listed in the likes of Google and Bing.
To get started, do keyword research to determine the phrases and words most relevant for your blog content and entwine these words throughout. You can also outsource your SEO optimisation if necessary.

Getting started with a blog can be an intimidating step to take but one that is nonetheless rewarding. While it takes time and effort, the long term outcomes of blogs are undeniable and worthy of attributing some of your marketing efforts towards.
Don't miss out on reaching your customers and gaining new ones - blogging is a simple marketing tactic can benefit your business, and with these tips, you can avoid some of the common blogging mistakes businesses make.
If you need help with producing content and blogs for your website that will help grow your business, feel free to get in touch with our digital marketing specialists on (07) 5636 3700 or book a consultation.