Content Creation Ideas For Your Business
Posted on 12 January 2019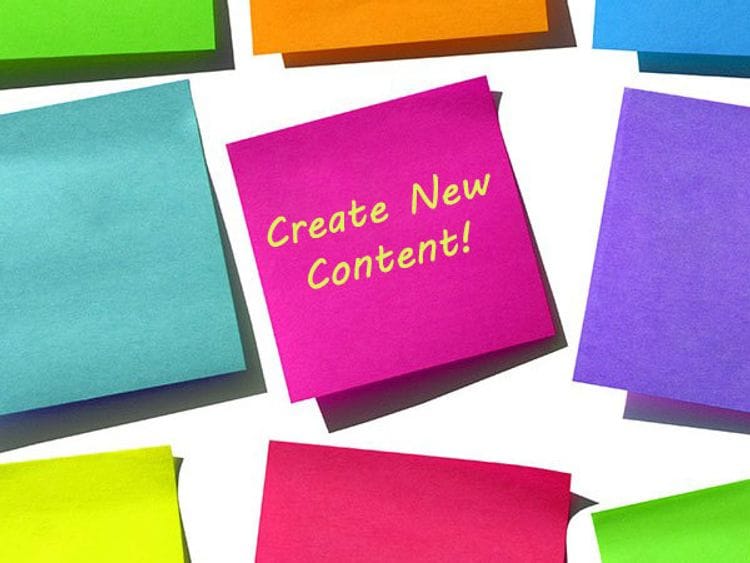 5 Tips For Creating Content For Your Business
Firstly have you noticed that our heading talks about creating content for your business and not your website?
While your website is probably your most valuable business tool, gone are the days where we can ignore other mediums. Facebook, Instagram, Twitter, LinkedIn and even Pinterest are all popular platforms for driving traffic to your business and while all of these platforms may not be suitable for your business, you should be using at least a few of these that your clients (and prospective clients) are active on.
Today's tips for creating content takes into account that you need content for other online mediums. Some of these ideas will be social media focused and some will be web based. Some could be used for multiple situations. You can decide how best it might work for your business. But overall know, Content is King and Google, your clients and prospects all love it!
Tip 1 - Ask Questions
As humans we all love to offer advice or help. It's in our DNA. Asking questions encourages engagement and interaction which in turn increases your online profile. Commenting is also a factor in many social media rankings which is why everyone is always asking you to comment on their Instagram post or their YouTube video. Encouraging this engagement will not only get you some great advice, it will also enable you to communicate directly with possible clients. Be sure to ask questions about relevant subjects though. Ask about an A or B option of a product/service you are thinking of adding to your business. Ask about extended trading hours during daylight saving. Ask about common challenges. Ask about how clients might want Christmas specials presented to them. Anything that will encourage a response from your clients.
Tip 2 - Promote Achievements or Celebrations
If your company has a big celebration on birthdays or occasions, don't forget to post that on your Facebook or Instagram profile. A photo of Sam in the funny hat with his cake in front of him puts a face to a name that many clients may not have. If your freight supervisor Linda is celebrating her second year anniversary with the company, we're sure you clients would love to know and to congratulate Linda on not only her anniversary, but also the improvement in your freight services since Linda has been on board. This doesn't have to be limited to your own business either. Has a client recently scored a large contract? Have a chat to them and should they agree, write a blog post about their acheivement, add a few photos and a link back to their website. I'm sure they will appreciate it and then in a few months time you could ask for your own link to be added to their website under their "preferred suppliers" page. By doing this you have created not only content, but increased client loyalty and facilitated a link exchange.
Tip 3 - Interact With Others
While you are focused on your own business, it sometimes pays to remember that interaction with other businesses can also help you increase your own profile. If one of your suppliers is a large company and has helped you out in some way, consider posting a glowing review for them. If they are a distributor only, but have a very successful brand presence, as a retailer you may gather some new clients who land on your supplier through a search. They can't buy direct from the distributor, but there you are - front and centre and looking like a preferred retailer.
Tip 4 - Team Profiles.
Create a profile for each team member and share not just what their role is but who they really are. Your company is driven by humans and your clients love to see examples of this. This shows clients that you are people behind the corporation and will allow them to connect with you on a more personable level.
If you have a casual type of business, or work on your own, don't be scared to have a little fun with this. Include the freight delivery dude (with his permission of course), or the bakery owner where you get your morning coffee (again as long as she says its OK). Clients will love that you are out and about in your community and you never know what telling your coffee lady what you actually do might result in.
Consider starting these profiles as "Featured Team Members" on your blog. This might be something you do every Friday until you have featured every team member and then you have the content to add a Team page to your website. Two bites at the apple is always better than one.
Tip 5 - Show Them The Sauce
We've all seen that perfect Instagram feed whether it be fashion, travel or food related and while we are initially very impressed by the photography and often do follow it, have you ever noticed how you just start glossing over that same feed after a short while? Could it be because while it's so perfect, it gets real boring real quick? Could your clients benefit from a quick glimpse into your businesses real world?
Lets say you produce an immaculate range of suits but in the manufacturing process your best tailor ends up surrounded by scraps and cuttings and has pins in his sleeve and a pencil behind his ear. Showing this to clients with a comment about the work behind the product can reassure them that their suit is not only locally made, but reinforcing the level of effort that goes into the production may justify the cost to them. Of course there is also that factor that it reminds your clients that you and your business are in fact human beings. We all relate to people much better than we relate to machines so don't be scared to show them the sauce - just keep the secret sauce to yourself.
If you ever need any help writing content, we do have these services avaliable. But please note, you dont have to write a lot to make it worthwhile... just get yourself into a routine of writing a blog, email, post, image on Instagram etc on a regular basis. For some of our clients, they just start with a one hour committment every Monday morning (example) before they get distracted and then it easily becomes a routine.


Author:
Tracey Voyce
About: With more than 30 years business management experience, Tracey Voyce is the CEO of Bloomtools. Tracey has owned and managed many businesses and spent several years training and motivating coaches at the world's largest business coaching franchise.
Connect via:
LinkedIn