Google+ a big plus for business
Posted on 11 November 2011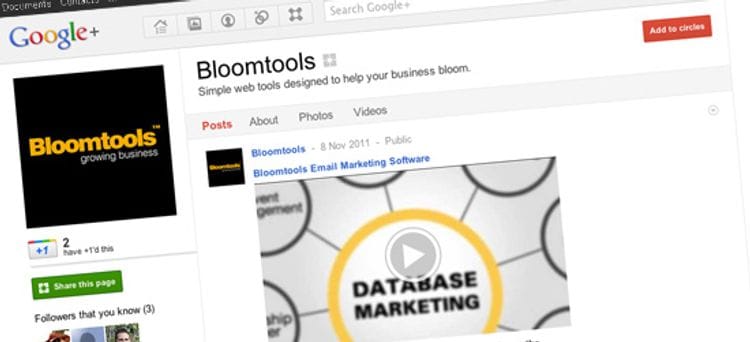 Listen up businesses, the next big thing for your social media marketing strategy has just arrived - Google+ Pages for businesses! Just like your other social media presences, you need to decide if it will add value to your business and, if so, make the commitment to include it into your marketing strategy.
However, I'd just like to say this: Google is the biggest of the Search Engines, so if you are wanting to maximise your search engine optimisation, it would be a wise idea to get involved in any online project like this that Google produces.
Aside from that, here are some of the other benefits that we think Google+ will bring to your business:
Use the Google+ Circles feature to group your followers into similar interests or categories. This enables you to target different content at these groups for an excellent niche marketing technique.
Link your Google+ Page to your website, and vice versa. Google have said themselves that this will help them determine the relevance of your website to a user query in Google Search, so make the most of this. If you have challenges with this, contact your local Bloomtools consultant as they'd be more than happy to help.
When your favourite customers visit your Google+ Page, encourage them to +1 you. This will increase the visibility, and credibility, of your brand on the Internet. If you don't yet know about the Google +1 button, read our blog entry. In short, the Google +1 button tells other Internet users that your content is interesting and valuable, so the more +1s you receive, the better.
It's important to note that, unlike the older social media sites, you can't feed content from your Google+ Page into your other social media accounts or vice versa. Custom branding of your Google+ Page is also quite limited, however at the rate that Google develops features, this may be a temporary set back.
If you're interested in doing a bit more research, here are a couple of quick Google videos we found that will tell you a little more about Google+ Pages for businesses.
Lastly, if you want to see how the Google+ Pages can be used for business then check out our own page and have a good look around. Don't forget to add us to your Circles while you're there as we'll be regularly updating our Page with marketing strategies for Google+ Pages as well as other Internet marketing ideas. Oh, and if you want to +1 us too, we won't complain.