Google Apps for your business: Time to switch?
Posted on 14 December 2014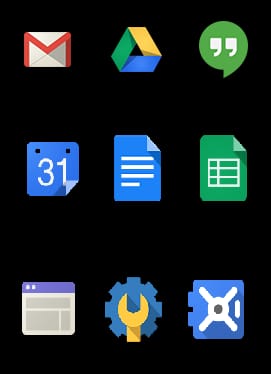 Huge advances in cloud technology have already made it a simple and affordable storage solution for many businesses. With Google Apps offering effortless integration for a wide range of business products, it's hardly surprising that more and more businesses are also switching operations to the cloud.
Getting to grips with Google Apps
Offering a powerful cloud-based office suite, Google Apps takes many of the Google products employees are already familiar with and introduces excellent new features. Move Gmail, Google Calendar and Google Docs into the cloud and enjoy seamless syncing across the office.
This is perfect for creating a more fluid workflow among your employees and offers instant access for remote workers. For example, multiple authors can edit one Google Doc making updating easy, even when everyone is in a different location. Google Apps also boasts easy-to-create project sites, which are great for brainstorming and creating a shareable hub for essential project information.
As the services are browser based, employees can instantly access their Gmail accounts on any device. Whats more, with the integration of instant-messaging service Google Chat, staff can communicate directly through the inbox's interface.
Simple, safe and cost-effective storage
Not only does Google Apps offer excellent accessibility, it's also a fantastic way to securely store all your business essentials without overloading individual devices or paying for costly server space.
Pricing is another major advantage over traditional desktop software. For an incredibly small, monthly or annual fee per user, your business can enjoy access to the full office suite, 30GB of online storage for file syncing and sharing, and online video and voice calls. There is also a premium offer, which includes unlimited storage, Google Vault for e-discovery, covering emails, chats, docs and files, and advanced admin controls for Drive all for a very competitive price. This compares favourably to investing in Microsoft Office for every employee, for example.
Google Apps vs. Microsoft 365
Google wasn't the only software giant that predicted the explosion in cloud computing. Microsoft also created its own online suite, Microsoft Office 365. This includes a very similar set of products, but there are some notable differences between the two.
Google's pricing plan is very simple, while Microsoft has a variety of different offerings that change depending on the number of users it is still a lot more expensive.
One potential benefit to 365 is that it offers offline versions of some of its most popular products, so staff can use Word, Excel, etc. even when they don't have an internet connection. Google Apps, on the other hand, is entirely browser based, although some products can be used on Google Chrome without being online. So most offices have all staff on Google Apps and only a couple of key individuals may have Microsoft Office (saving money, and gaining the advantages of the Apps many benefits)
Google Apps, also will work in conjuntion with other tools, like the Bloomtools CRM and more. Are you are looking for ways to improve your business processes and results? Discuss your challenges and business growth opportunities with your local Bloomtools consultant.


Author:
Tracey Voyce
About: With more than 30 years business management experience, Tracey Voyce is the CEO of Bloomtools. Tracey has owned and managed many businesses and spent several years training and motivating coaches at the world's largest business coaching franchise.
Connect via:
LinkedIn