Increase your rankings in Google My Business
Posted on 15 June 2015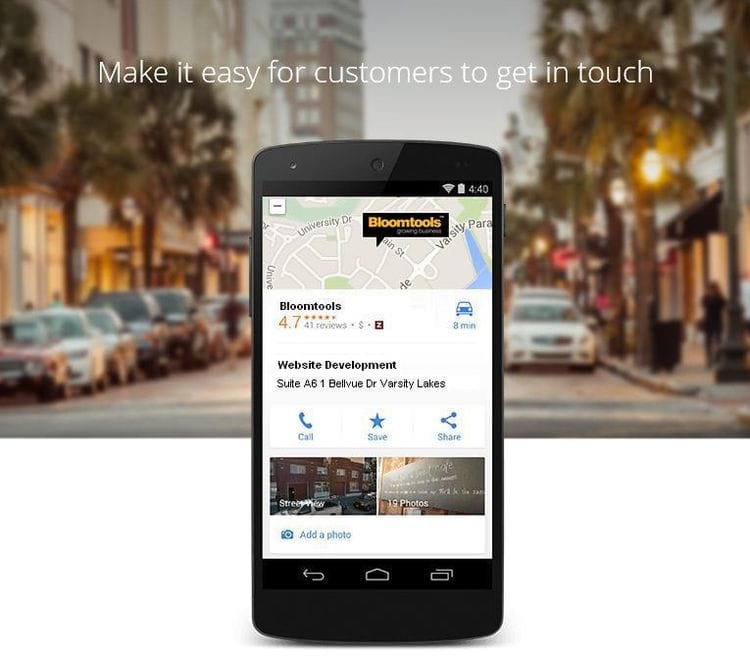 86% of people when looking for a local business, service or product search online, and 70% of these searches are done using Google - and what comes up first is Google My Business. So today we are giving you some great tips so your business stands out, providing you a greater chance of potential customers finding and choosing you, over your competitors.
But first, what are the benefits of Google My Business?
It's the Yellow Pages of the 21st Century: in our modern world that using technology for everything, its no wonder the yellow pages is a thing of the past. Google My Business puts your company at your consumers fingers tips when they researching for their needs and services to be met.
You're easier to reach: when your business is found on Google your phone number and address is right there waiting for your consumer, they don't need to search through your website for it. It is also dynamic and interactive as opposed to static - when your phone number is clicked on they will be taken straight to a call, or your address will be opened directly in Google Maps.
It compliments your online advertising: for free, its an additional source of advertising. Take advantage of a platform 70% of people use online to get your business out there.
To get listed here, go to Google My Business.
Google location marketing has grown competitive, use the following steps to enhance your rankings:
Verification: make sure all information on your google places listing is correct, accurate and reliable

SEO: Google uses your inbound links and local citations to verify you. Increase these off page SEO elements.

Category Selection: Google offers 5 categories, make sure you use all five of these options to enhance the likelihood of your business appearing when customers search a variety of keywords.

Include keywords: In your Google Places description you can include 3-4 optimised keywords. Use precise, popular and accurate keywords to describe your business.

Consistency: ensure the information you have included on Google Places is consistent with the information on all other places your business is mentioned. This increases the trustworthiness and verifiability of your listing.

Reviews: encourage customers to write reviews for your business on Google Plus, the more positive reviews you have the higher google will rank you.

Images and Videos: you can add 10 images and 5 videos to your profile, take advantage of this as imagery is a powerful tactic in selling and persuasion.
For more assistance and tips in increasing your business's chances of a high ranking call your local
Bloomtools Consultant
and get a
free website assessment here.


Author:
Tracey Voyce
About: With more than 30 years business management experience, Tracey Voyce is the CEO of Bloomtools. Tracey has owned and managed many businesses and spent several years training and motivating coaches at the world's largest business coaching franchise.
Connect via:
LinkedIn