LinkedIn For Business - Is It Worth It?
Posted on 18 February 2021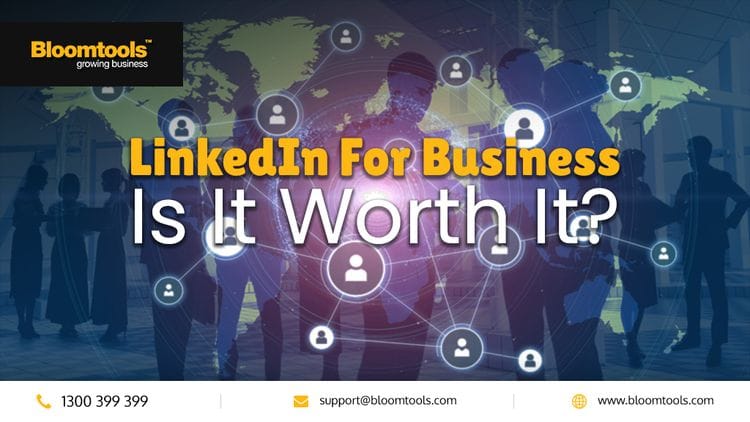 LinkedIn is new age networking at it's finest. Alongside a growing user base and a positive reputation as a marketing tool, LinkedIn's core purpose is building business-to-business contacts and networking opportunities.
So how can you use this tool to grow your business? It's not so much about selling and pushing your product or services; in fact, that type of behaviour is highly frowned upon. From a marketing perspective, LinkedIn is more about building your brand, appealing to your connections and other businesses without a sales-y approach.
With so many benefits for businesses in any industry, LinkedIn is a solid option to consider adding to your marketing strategy to see for yourself how it solidified its reputation as a marketing channel. No matter what your line of work or type of business, LinkedIn can be beneficial for a multitude of reasons.

What are the benefits of using LinkedIn For Your Business?
Keep up-to-date with industry news - you can have the latest news sent straight to your inbox or shown immediately at the top of your dashboard when you log in, helping you stay on top of any emerging trends or updates in important areas.
Connecting with experts - learn from others lessons; both the good and the bad.
Add a LinkedIn share button to your website - this option will help you scale your social media traffic. By adding a LinkedIn button to your website, visitors can easily share your content across other platforms.
Assists in improving SEO - LinkedIn can help you work towards achieving a higher pagerank on Google - your personal profile and company page can both link back to your website adding to your linking strategy.
Professional environment - the primary audience of LinkedIn users are professionals or those getting started in the professional sphere. Assumedly, these people have similar goals regarding networking and making connections.
Free to sign-up - with a free account, you have access to all of these great benefits.
LinkedIn can help your business find and recruit great talent - 70% of people are using LinkedIn for job-hunting, making it one of the most effective recruiting platforms online.
Review other businesses - if you're thinking of doing business with another particular company, reading their client reviews on LinkedIn pages and seeing who they know can help you connect.
Prove your competence - posting content on the website's Answers section will show your strengths and expertise is an effective manner. Check out the Recently Asked Questions posted by others and you can choose to answer any that may relate to your level of expertise.
Communicate in real-time with professionals - in the Groups area, LinkedIn offers a platform to discuss current affairs, products and opportunities. Groups is a discussion forum, whereby you can share ideas, gain advice to help build your company and connect with like-minded peers.

What are the cons of LinkedIn Business?
Takes time - like any channel your business is on, it takes an investment of time to really make the most of it.
Potential for spam - a major downside of LinkedIn is that you can expect that many people will reach out trying to make sales.
Premium options are costly - If you're looking to upgrade to additional services, then you should expect to pay for these benefits. You can learn more about their premium subscription plans here.

Still wondering if LinkedIn's right for your business? Check out these statistics:

If you're wanting to implement LinkedIn as part of your marketing mix, now's the time - with the increase in remote working and usage of the platform, there's ample opportunity to grow your business as well as your connections.
Our team of digital marketing specialists can help you accelerate your businesses growth with effective tools like LinkedIn and other social media channels. Get ahead of the competition - feel free to contact us at (07) 5636 3700 for more information, or book a consultation today.