Measuring the ROI of database marketing
Posted on 17 December 2020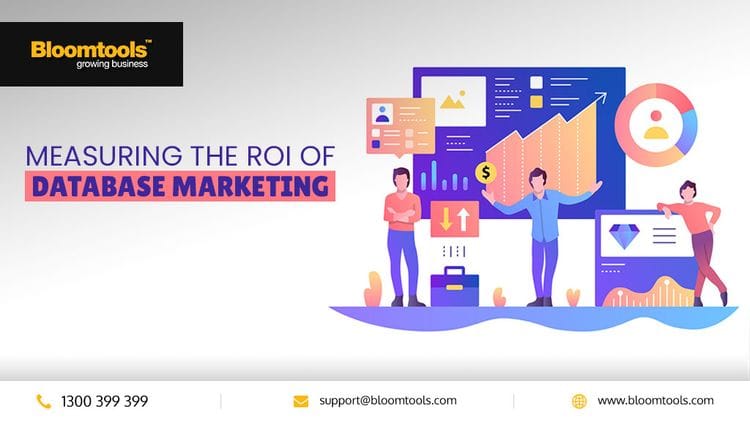 Database marketing is a simple and cost effective tool designed to help businesses meet their objectives while managing their time with ease. Businesses can test various techniques and learn from their data, effectively nurturing leads, boosting sales and generating revenue.
The information provided through your database marketing software is all measurable data; all data that can help you make informed decisions about the future of your marketing and whether or not you're reaching your established goals.
Most small businesses have limited time to spend on reporting, so keeping all processes streamlined and efficient is key. For this reason, we've put together a quick guide with all the key concepts of measuring the ROI of database marketing you need to know.
Before we get started: what are the benefits of database marketing?
Allows you to create highly targeted campaigns, helping to address any niche groups within your customer base and target according to their sales activity and traits.
You can manage your contacts efficiently.
Effective method of gaining customer feedback.
Build better relationships with customers by providing consistent value.
Improve the efficiency of your marketing campaigns.
Save time in the long term - using appropriate database marketing software will save hours in marketing reports and sales reports.
How to measure the ROI of your database marketing:
1) Establish your goals:
From the very beginning, establishing your goals will help you maintain clarity about what you want to achieve from your database marketing campaign. Your goals could include increasing sales, generating new leads, encouraging referrals, receiving customer surveys or booking a new event.
Whatever your business goals are, you can align them with your database marketing campaign.

2) Know what to measure:
Once you've identified the primary and secondary goals of your campaign, you'll have to identify key performance indicators (KPI's) that will help you identify whether or not you're achieving the goals you've set. It'll also help you track progress at different stages of the campaign.
There's a whole range of KPI's you could measure, but it'll all come down to what your goals are and which KPI's align appropriately to those goals.
Some example KPIs include:
Volume of leads generated
Conversion rates
Average sale volume
Number of new purchases
Revenue
Net profit

3) Apply the ROI formula for your database marketing:
There are many variations to calculating return on investment, depending on how complex and comprehensive you want to be. The basic formula for calculating ROI consists of gain from investment, minus cost of investment, divided by the cost of investment.
ROI = (net profit cost of investment) / cost of investment
For example, if you made $1000 from a campaign that cost $500, that's 100 percent ROI.
ROI = ($1000 - $500) / 500
ROI = 1
Alternatively, to calculate ROI based on revenue you can use the formula:
ROI = (campaign revenue x profit margin) / cost of campaign
These formulas will give you the financial return on your investment. However, more broadly you can compare metrics like open rates, clickthroughs, conversion rates and cost of customer acquisition to work out how well your database marketing campaign is working for you.
4) Consider seasonality when calculating ROI
It's important to take larger industry and seasonal events into account when calculating your ROI. Customer interaction may have slowed in June, but it might be because everyone was focusing on the end of the financial year. Taking external events into consideration can help you plan out future campaigns.

Don't become overwhelmed with unnecessary complexity. Make a shortlist of items that are important to measure then track, respond and stay nimble. The most important thing to remember is to put your findings to work to refine and develop future database marketing campaigns based on your results. Each campaign you run gives you better and more accurate statistics about your target market.
You can experience all the benefits yourself with a test drive of our database tool. Alternatively, if you're interested in learning more about database marketing, feel free to get in touch with one of our specialists to organise a consultation or give us a call on (07) 5636 3700. We're here to help grow your business.