Tip: Drive Traffic - Boost your traffic with the Bloomtools complete checklist
Posted on 30 March 2019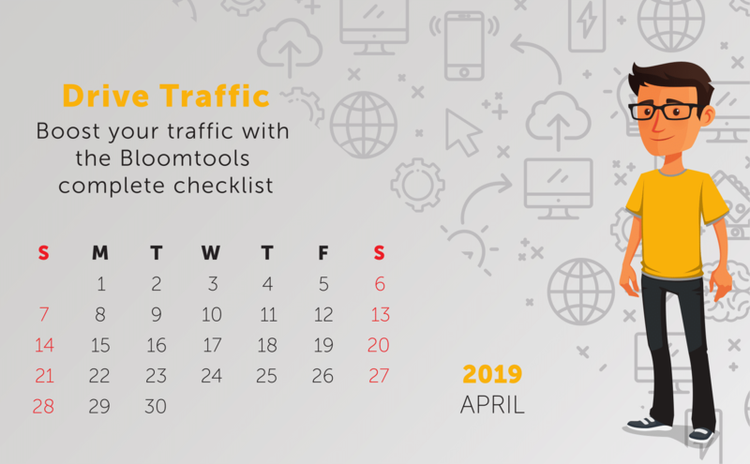 If you want more clients in your business then you will be looking at implementing strategies to attract more clients. Now there are a number of channels for this. One being your website, so here is a list of 17 strategies you could apply to your business to drive more people to your website. There's also one extremely important strategy at the end that will help you encourage this traffic to take action...
Advertise

This one is instant - as soon as you place advertising on Google Ads, social media or other areas with a compelling offer, you will instantly start attracting interest in your direction. Each option has its pros and cons, so investigate further which one will work for your audience and your market.

Give us a call to discuss this further, so we can do some research to evaluate whether this will work for you and give you an idea on potential investment needed to deliver results.

Get Social

When you write great content on your website, it won't necessarily be instantly found. So look at how you can boost it through social media channels. Look at which ones are being followed by your target audience, then create compelling teasers to drive them back to your website for more information.

Email Marketing

This is still the number one most cost-effective marketing strategy. You already have a client base, and for many a database of more potential clients that you need to regularly touch, to let them know of great tips, awesome offers and latest news.

If you haven't already tried Bloomtools Database Marketing, we can set up a free trial for you (offer for Bloomtools clients only)

Write Effective Content

Write content on your website that is of interest to your target market. What are they commonly searching for or common questions they have. Review March for more information. Then promote it on social media, Google My Business and other websites.

SEO

Improve how your website is read by Google. Improve your on-page factors (see May), get us to do an audit for you and investigate whether you would gain value from us doing additional paid SEO work for you.

Get Listed

Add links to your website on other external sites (eg. suppliers, industry and directories). It is important to write a good description of your business as part of this link, as Google looks at words associated with it.

Keep a master list of these so if something changes in your business you have a list of where your links are and can improve them over time.

Here are our top 23 directories we recommend you add your listing to.

Link Internally

Not only does Google look at your content, but they are also assuming that anything that you link to internally within your website is important to your audience. So if you are talking about one of your services in a Blog or on the home page put a link to the actual page you are talking about. This will also improve your users experience on your website.

Write a Few Lists

Google and people love posts consisting of lists, as it gives them some guidance, and often saves them time in finding the links to worthwhile information, tools and sites. Lists could be on common helpful tips: The top 5 things to check if you have no hot water before you call a plumber etc. It could be links to other experts eg. A Geriatric Doctor could have links to Alzheimer's, Stroke and Parkinson association websites.

Utilise Long Tail Keywords

People mainly search now using a phrase consisting of 4 or more words so you need to investigate what your target market is searching for to target them. It is these phrases that give you the edge over your competitors as everyone always covers the basic keywords in your industry. It is niche markets and more in-depth information that helps you attract more traffic to your website.

Ensure Your Website Is Responsive

This is extremely important from Google's perspective as they want your website to be easily viewed on multiple devices and screen sizes (ie. your website adjusts to whether it is viewed on a desktop, laptop, tablet or mobile device).

If you are not on our new editor, please give us a call to discuss moving you over.

Make Comments on External Websites - Engage Online

When you are looking around at what your target market is searching for and what others have written, you will often find opportunities to write comments. Make sure your comments are informative, and if you get the opportunity (without being too promotional) add a link back to your website for more information.

Guest Posts - Link Back to Your Website

Within your area or industry, you will come across association sites as well as other websites, in general, giving people news and advice. Write some content (potential guest blogs) that you can place on these websites with a link back to your website.

Research Your Competition

Use tools that show you what your competitors are doing for advertising, backlinks they have on other websites, and get notified when and where they appear (see June) online to learn from what they are doing and so you can do better.

Host Webinars

Creating a webinar for your clients, sending an invitation to your general database, as well as promoting online can be a very effective strategy to attract new clients and show off your expertise to attract and convert new clients. People love to learn.

Look at Video Marketing

For the last few years, videos have been an effective strategy to add to your website to make your business stand out and convert more clients. Data shows that information retention is significantly higher for visual material than it is for text. But once you have created a video, don't forget you can also market it online on other websites, such as YouTube.

Review Your Google Analytics Data

This is a valuable free tool that can be easily set up on your website - call us if yours is not activated yet (you can check when you log into the backend of your website (thewebconsole.com). It will give you data on most aspects of your website, from your most popular pages to visitor demographics and where people come from. You can use this data when you make changes or employ some advertising strategies to measure its effectiveness to know its ROI (return on investment).

Promote Your Website

Promote your website everywhere and on everything you do - email signatures, car, and building signage, product stickers, flyers, ads, brochures, pens etc.
And finally, whenever you write something new on your website - from a blog, a new product/service, or a page on a common question - promote it everywhere. Add it to your Google My Business listing, put a teaser on your social media accounts to link back to your website for more information and more.