Universal Analytics End Date: Why People Are Concerned and When to Migrate
Posted on 30 March 2022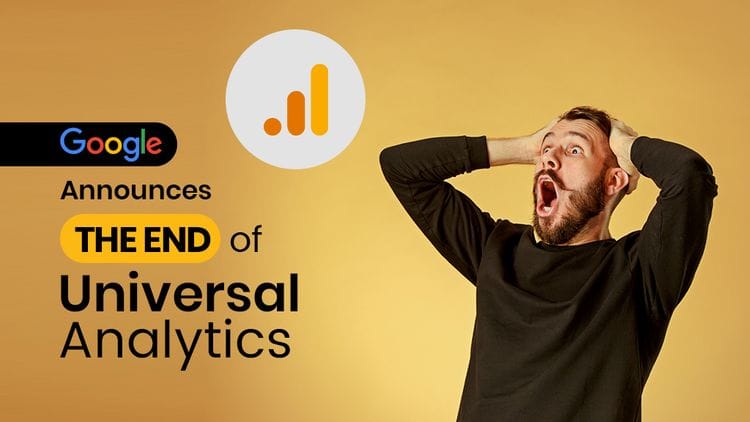 Google's Universal Analytics headstone has been collecting dust for a few years, but recently, Google gave it a wipe over and inscribed a date.
For a few years, marketing companies, data junkies, website designers, and digital experts have been using two versions of Google Analytics: Universal Analytics, and Google Analytics 4.
But now, after 10 years of valuable service, Universal Analytics will be shut down on two dates:
July 1 2023 all free users

October 1 2023 all paid (GA360) users (including enterprises)
Users will have an additional six months to look at historical data or export it before Google wipes it away.
The Reason Google is stopping Universal Analytics
As sad as the news is for many, Google's decision was, of course, inevitable.
According to Google, the model Universal Analytics is built on will soon be obsolete (or it already is). Referring to the shift away from desktop cookies, Google Analytics 4 is more future-proof as it records data from both desktop/browser and apps instead of only measuring data based on cookies and browsing events.
Differences between GA4 and Universel Analytics
Between Universal Analytics and Google Analytics 4, there are a bunch of notable differences– Some good and some not so good.
You've probably seen a pile of angry tweets about the recent news.
The good (benefits of using Google Analytics 4):
Assigning attributions
You can assign attribution credits to more than just the final click, meaning you can better understand how different marketing efforts influence conversions.
Additional (valuable) data
With a stronger focus on machine-learning/AI, the data generated will have predictive insights about your visitors, conversions, and automatically create new audiences to convert.
Expanded, stronger integrations with other apps
GA4 integrates more effectively with other Google products like Google Ads. The combined web and app data will make it easier to provide insight into ad campaigns.
The not so good (disadvantages of Google Analytics 4):
The whole structure is different (and many believe it's more difficult to use)
The entire structure of the Google Analytics platform, navigation and the design of reports will take some getting used to for businesses and clients.
Universal Analytics differentiates between events and page views when recording data.
In Universal Analytics: A visitor's actions on a page are recorded as separate events

In Google Analytics 4: The visitor being on a page is also an event and is recorded independently.
This isn't a popular change for digital marketers as data won't reflect page visitor actions as well as it previously has. Instead of determining what a visitor does once on a specific page, you will only know they had visited it.
There isn't any Channel Groups or Referral Exclusion List feature like in UA
A handy tool to make data clearer to marketers who don't need to see all the figures, reports are going to be a little messier until this is added to GA4.
So, why are people upset?
As written above, it hasn't come as a surprise. Google had told the world that GA4 was the future and that Universal Analytics would be shut down, and it has a bundle of useful features– so why are people worried or upset about UA becoming GA4?
Other than it being human nature to not like change, Google has announced that historic data collected in Universal Analytics won't be saved or migrated to Google Analytics 4.
That means that users won't be able to track their success from prior dates or track audience movement.
People are also upset because they've been using both platforms in conjunction with one another, and will soon lose many of the valuable tools they've come to appreciate.
What you need to do before Universal Analytics is shut down:
Before Universal Analytics goes away forever in July next year, you should:
Export all available data to reference in future and determine ways to translate it into GA4 results.

Get used to using Google Analytics 4 and figure out how to produce the same results

Let your clients and managers know that the data will look different and that the results produced may be slightly different.

Make the most of 1st party data and cookies while you can

Make a Google Analytics plan and figure out exactly what data you're going to produce in future.
How to tell if your Google Analytics data will be affected by the Universal Analytics end date:
According to Google support, there are some dates that warn you whether or not your data and properties will be affected.
If you created your property before October 14 2020, it's most likely a Universal Analytics properly and will be impacted.
If you created your property after October 14 2020, your data is probably already a Google Analytics 4 property and may not be affected.
When should you start migrating to Google Analytics 4?
As data and historic statistics won't be migrated to Google Analytics 4, you should begin moving and exporting all progress from Universal Analytics as soon as you can. Otherwise, you won't have any data to refer to.
It's probably a good idea to get used to GA4 before it's your only option. If you've been using both platforms to generate insight and data, you're going to need to start focusing on producing the same results using GA4 exclusively.
Not sure about using Google Analytics 4 for your business? Give Bloomtools a call at (07) 5636 3700 for more information, or contact us for help with your digital marketing strategy.