Why Your Business Needs Paid Advertising
Posted on 25 March 2021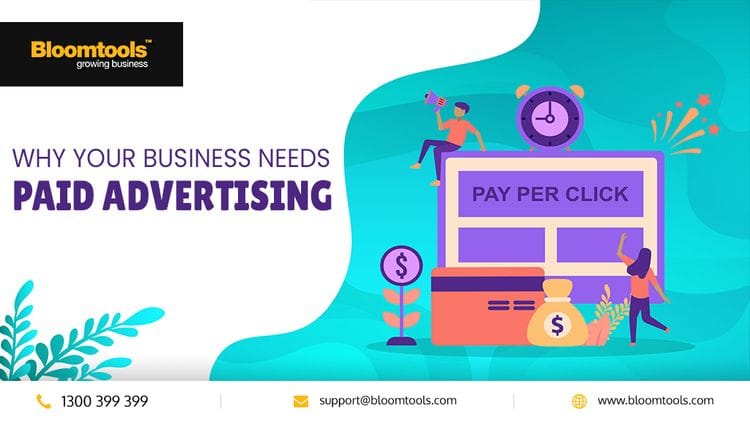 Many business owners dismiss paid advertising (PPC) as a costly investment and something not worth focusing on. Whether it be Google Ads or paid social media advertising for Facebook, Instagram or LinkedIn, there's benefits for businesses of all sizes.
PPC is often scrapped from marketing strategies in an effort to save time or money, but even a small investment can go a long way in reaching new customers and growing your business.
Here are the top 4 reasons your business needs paid advertising:
No minimum investment required
For those on a tight budget or with limited funds to put aside, paid advertising is still a possibility. There's no minimum monthly amount required and you have full control over the amount you spend per day, which makes it financially less risky than other forms of marketing.
Google Ads runs on a bidding system which allows you to always have full control of what you're willing to pay for a customer to click on your ads. Research shows positive ROI from Google Ads, as most businesses who utilise this PPC tool make an average between $2 in revenue for every $1 they spend on Google Ads up to $8 for every $1.
It's important to keep in mind, however, that the expense of the cost-per-click of one of your ads is very industry dependent - it can also fluctuate depending on where you're located.
For example: if you're a brick and mortar service in a large metro area or city, the chances are your keyword bids will be more competitive, and thus, can be more costly.
A paid advertising specialist will be able to give you insight into the competitiveness of the market in your area and industry with a consultation, advising on a suitable budget based on cost-per-clicks and your goals, so you will be well equipped with what you can expect going forward.
On a positive note, your budget can be increased or decreased at any time so you can be flexible whenever you please.
As for paid social media advertising, no up-front payment to the channel is required to get started. Facebook for example works on a set budget. Once your budget is set, Facebook will continue to show your ad until the limit of this budget is hit so you can rest assured you're only spending what you want to spend.
Increase your customer base
Generating high quality leads to your business and achieving a return on that investment is the goal of most marketing strategies. With paid advertising, you're targeting audiences who are more likely to be searching with an intent to purchase or those who are more likely to need your services or products.
With Google Ads, an average of 41% of clicks go to the top 3 results for that search - those three spots are the top 3 paid ads. This means those businesses who are utilising PPC strategies are receiving those quality leads first.
Social media advertising is a great way to reach a huge range of people and you can almost guarantee your audience is on there. Facebook alone has over 2.7 billion active users, with the likes of LinkedIn honing in an audience of almost 740 million.
Highly targeted audience
Whether you use Facebook ads or Google Ads, you can target incredibly specific people. Once your paid ads are up and running, more data is accumulated.
Both paid search options have an extensive amount of information about its users - they even have insight to who is more likely to be one of your future customers.
This type of advertising allows you to target the basic demographics such as age, gender and location. However, you also have the option to get even more specific by targeting through behaviour, interests and for social media, similar engagements on other posts, as well as lifestyle factors (job title, industry and marital status). There's also the option for you to filter your ad based on recent purchases and life events.
In Google Ads, you can target devices, location, day and time and demographic to reach your relevant audiences. Targeting also translates into tracking where users go once they're on your website from the ad. You can also target audiences based on their hobbies and interests, as well as highly specific keywords to ensure that the people with strong buyer intent find your product or service.
See results sooner
Search engine optimisation (SEO) should always be a part of your strategy. However, the results of paid advertising are generally a lot faster and immediate than those achieved through SEO.
If you've had any firsthand experience with SEO techniques, you'll know that seeing results is a lengthy (but necessary) process. Due to the competitive nature of SEO, it can take months to see the results you're aiming for. In contrast, paid advertising has the ability to see results almost immediately.
This is particularly beneficial if you've gotten a new website and haven't had the chance to build up much historical data that Google takes into account when ranking websites on the search engine.
Overall, paid advertising is a worthwhile investment to add to your marketing strategy. Combined with traditional marketing methods and organic search engine optimisation, you can maximise your exposure over your competitors.
To find out if paid advertising could help your business or to discuss starting a pay-per-click campaign, feel free to contact us at (07) 5636 3700 for more information, or book a consultation today with our PPC specialists.