5 Reasons To Post On Your Google Business Profile
Posted on 1 March 2022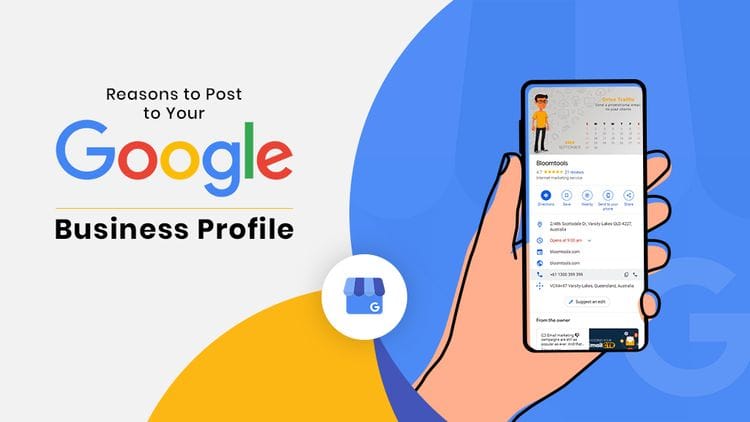 It's surprisingly essential.
Google added the Posts feature a few years ago. And since, we've helped a number of local businesses use it to get an advantage on the competition.
What the "Posts" feature on Google Business Profile is for
Google Business Profile (formerly Google My Business) is there to help businesses update their customers and clients.
The Post feature from Google Business Profile acts similar to a social-feed update.
These updates could be something like:
A Covid-19 update for your business

A temporary notice of a change of hours

A special offer

An upcoming event

The latest blog or new addition to the website
Find more ideas in A New Way to Promote Your Business on Google.
Is it worth posting to Google Business Profile?
Your Google Business Profile (formerly My Business) can add weight to your listing on the search engine.
Without delving too deep into the intricacies of SEO, Google favours websites with higher authority and is more likely to list them first.
The more high-quality and accurate content you add to your Google Business Profile and website, the more likely you are to be listed on the first page of a Google search.
So, each post to your Google Business Profile is a step in the right direction.
How to know what to post to your Google Business Profile
As mentioned above, you should post any updates to hours, directions, contact information, or general news.
Not only does it help your customers and clients communicate better with you, but it also helps your listings online.
Not sure how to manage your Google Business Profile? Google themselves have published a few articles to get businesses started like:
And if you want some tips for Australian businesses specifically, check out some more Bloomtools tips in:
Get more help with your Google Business Profile
For help with getting your Google Business Profile going (including verifying it), contact us online or call at (07) 5636 3700.
Bloomtools also offers content creation services to keep your business up to date online on Google Business Profile, social media, and on your website - book a consultation for a quick free chat to learn more.