A new way to promote your business on Google
Posted on 27 July 2017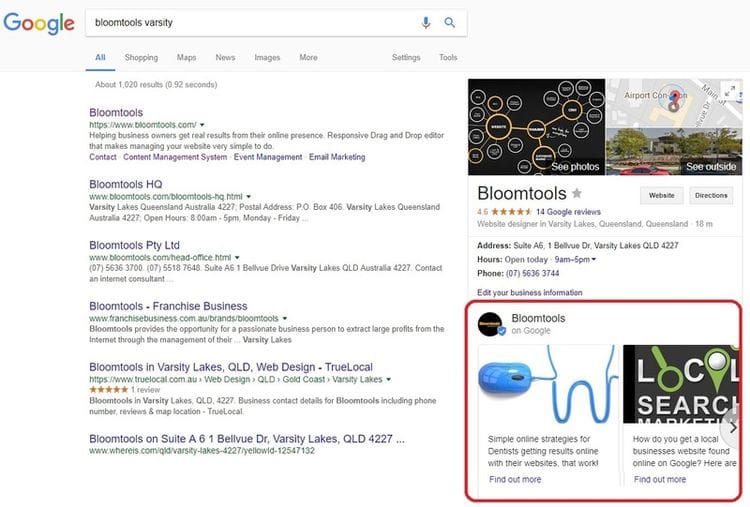 Posts feature is now available on Google My Business (Google Business Profile)
Google My Business, is one of the first strategies you need to have sorted, and one that will make a massive difference to your business being found. This is backed up by Googles statistics that say that 82% of people turn to search engines to find local information and 70% look at multiple businesses before making a decision.
Now Google has made it even more effective, by now allowing businesses to post on their listing. This is powerful for promoting events, blogs, offers, specials, product updates, announcements and more.
As an accountant, you could promote a tax workshop for the end of the financial year, with a 'Book Now' call to action (CTA),
A private school could promote an Open Day event, with a 'Call Now' CTA;
A Dentist could promote a special offer for teeth Whitening, with 'Call Now' CTA;
A business coach could promote one of their blogs to showcase their expertise, with a 'Learn More' CTA;
A dog groomer you could promote getting your dog groomed, with a Book Now CTA;
Think about what you could use this tool for to promote your business, and schedule adding new posts once a week or month.
To add posts, simply log into your Google My Business (Google Business Profile) Account, then click on posts.
Important tips:
Photo/image used: Make sure it is of good quality and fits within the box restrictions
Make your post brief. You have 100-300 characters to give the key information, then inspire to encourage action
Add in your button of 'call to action'.
For more detailed step by step on what to do, Google Support has a good support article, to help you set up along with tips and examples.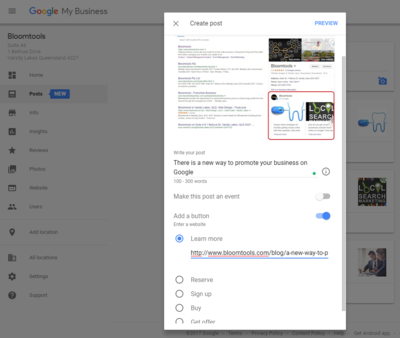 More Google Business Profile Tips
Since this feature has been added, Bloomtools has helped numerous Australian businesses to manage their Google Business Profile by creating and posting content for clients.
For more helpful tips, consider reading some recent Google Business Profile blogs including:
Or Contact Us directly today. Book a consultation for an obligation free quote on your Google Business Profile and digital marketing efforts.


Author:
Tracey Voyce
About: With more than 30 years business management experience, Tracey Voyce is the CEO of Bloomtools. Tracey has owned and managed many businesses and spent several years training and motivating coaches at the world's largest business coaching franchise.
Connect via:
LinkedIn