Paid Facebook Advertising: Which Ad is Best For You?
Posted on 20 May 2022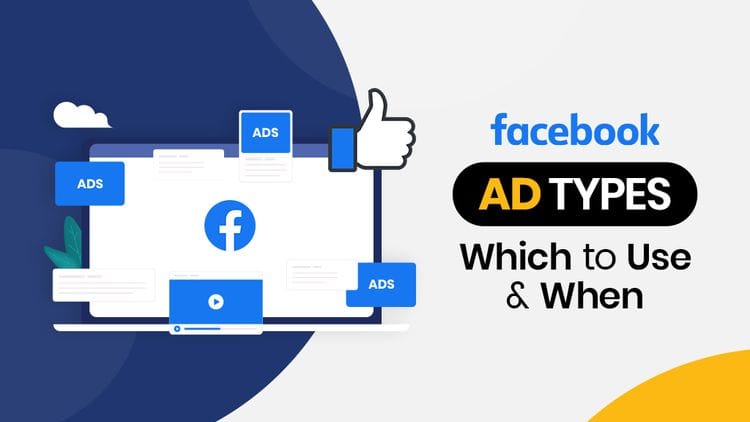 Facebook Ad Stats
4.6 billion people on the planet have access to the internet. Of those, 2.91 billion are connected to Facebook. Quickly crunching the numbers, that means that nearly 60% of internet users are on Facebook.
And Meta's reach goes 17% further because out of those 4.6 billion people, 3.59 billion use at least one Meta platform (Facebook, Instagram, Messenger, or WhatsApp). So, even if they're not on Facebook, they're part of the same social media network.
Some more PPC Statistics
If you'd read our blog on recent PPC Stats Important for Australian Businesses in 2022, you'd know that:
The average PPC ad return is 200%

Over 50% of ad clicks occur on mobile devices (phones, tablets)

Nearly all digital marketing campaigns involve at least some PPC (96%)

Nearly one billion people see an Instagram ad each day

Four in five Australians use social media (80%)

The average Australian consumer spends nearly a third of their time surfing the internet on social media
And, knowing that, you might be a bit excited to start your PPC campaign. But, before you start writing copy and creating designs, learn about the different types of Facebook ads and how much it will cost to run them.
How much does Facebook advertising cost?
Generally, it isn't expensive to run advertisements on any social media platform. Facebook is relatively cheap to purchase ad space and, generally, the return on investment can be really good (200% good).
The best part about both Google and Facebook ads is that you can choose to set your own price. And while there are a few sneaky tips and tricks in the trade, typically, it's really easy to set yourself a budget and maintain a steady return on your investment.
You can start your advertising campaign at any time and pause or cancel it at the click of a mouse. Digital marketing made easy, right?
How do payments work for Facebook advertising?
For Facebook ads, you can pay for two different objectives: impressions and conversions.
But, what's the difference between an impression and conversion in Facebook ads?
The difference between an impression and a conversion is in engagement:
If you choose to pay per impression, you pay for each time it shows up on somebody's Facebook feed.

If you choose to pay per conversion, you pay each time someone engages with your ad (clicks your link or opens your video).
Is it cheaper to pay per impression or per conversion on Facebook ads?
Cost-effectiveness between impressions and conversions depends on the type of Facebook ad you want to run.
Typically, if you have a link you really want leads to follow, it's cheaper to pay per conversion. But, if you're focusing on awareness, it may be more cost-effective to pay per impression.
But, like everything, there's a bit more to it when choosing the type of ad that's best for your digital marketing campaign.
How the 5 Facebook ad types work and their differences
1. Image
Facebook image ads are an opportunity to create visuals with still images that drive action. Typically, it will be an attention-grabbing image or a preview of your link. If you're looking for inspiration for images to use on your Facebook ads, try some of the following tips that we've had success using:
Show image examples of customers using your product or enjoying your service

The less text you use the better

Use high-resolution images
And remember, if you're running multiple different images in your Facebook ad campaign, stick to a consistent theme and similar colours.
Requirements for image Facebook ads
Images for Facebook ads must:
Be in JPG or PNG format

Be high-resolution (1080x1080 works best)

Not exceed a file size of 30MB
When to use an image for a Facebook ad
Facebook ads should always have at least one image or video accompanying your ad copy. Even the most minimal Facebook ad images might have their copy as the image with a logo featured on the ad, too.
Facebook image ads are versatile, cost-effective, and easy to get started with.
2. Carousel
Carousel Facebook ads are similar to image ads, but, instead of one picture, you can use up to 10 (with a minimum of two).
You can actually use videos in carousel ads, but usually, it's best to stick to either using all videos or all images.
Some ideas for Facebook carousel ads that we've enjoyed using for our clients' digital marketing strategies include:
Choosing a different product or service with each image and adding a link to purchase each

Telling a story with step by step pictures, as a comic book might

Before and afters

Explaining a step-by-step process of using a product or service
Carousel ad requirements
Images and videos for Facebook carousel ads must:
Be between 2-10 cards (images or videos)

Images have to be in JPG or PNG format

Be high-resolution (1080x1080 works best)

Not exceed an image file size of 30MB

Not exceed a video file size of 4GB
When to use a carousel Facebook ad
There are a few great benefits of using carousel ads for your Facebook advertising campaign. Usually, the best time to use a carousel ad is when you have more than one landing page for viewers to find.
As an example, if you're a retail store with an upcoming sale, you might choose a carousel ad and display a few different deals. Each image could be a different product and each one would link to your catalogue page for that particular item.
3. Instant experience
On Facebook, Instagram experience ads are paired with collection ads (below). An instant experience will be opened to fill the viewer's screen, whether that be on their mobile device or on their computer.
In the instant experience, viewers can look at your images, watch videos, or shop your displayed selection.
Instant experience ad requirements
Instant experience pictures and videos must:
Be JPG or PNG image files

Be MP4 or MOV video files

Aim for around 1080 x 1920 pixels

Be filled with up to 20 images or videos
When to use an Instant experience Facebook ad
Instant experience ads are more expensive and time-consuming and in digital marketing times, usually, this means it's risky. Typically, small businesses shouldn't use instant experience or collection ads on Facebook because there is less chance of returning their investment and profit.
For bigger companies, and those with a bit of extra cash, instant experience ads are a great way to launch new products and unveil upcoming, exciting deals.
4. Collection
Collection ads are paired with instant experience ads on Facebook. The collection ad shows a cover photo or video, as well as product photos. When a viewer clicks a picture, a landing page will launch the instant experience mentioned above.
Some of our favourite tips for collections and instant experience ads include:
Only autoplay one video at a time to prevent potential playback issues and make it easier for users to load

Don't spend time captioning videos (it won't show)

Make it easy for viewers by giving them directions to go through your images or videos with prompts such as "keep scrolling for more".
Collection ad requirements
Facebook collection ads must:

Be PNG, JPG, MOV, MP4, or GIF formats

Have a resolution of 1080 x 1080

Have images sized at or below 30MB

Have images sized at or below 4GB
Bonus tip for the more tech-savvy marketers: Include a URL parameter to track data and evaluate success in future.
When to use a collection Facebook ad
Collection Facebook ads are suitable only for launching instant experience ads and shouldn't be used for general link sharing and product advertising. If you're looking for that, a carousel ad may be more appropriate and cost-effective.
5. Video
Facebook video ads are a lot of fun, but they're a little riskier because they cost more (both to create and run). In saying that, videos give businesses a far greater opportunity to advertise compared to Facebook image ads because they can use a whole video with sound and motion.
Facebook video ads are displayed in both user scrolling feeds and in Facebook videos (in between content).
In Facebook video ads, you should include:
Using short, digestible content (between five and 15 seconds)

Keep your goal clear and stick to one message

Highlighting your difference

Sounds and music to complement your video and your creativity
Requirements for Facebook video ads
Facebook video ads must:

Be MP4, GIF, or MOV

Not exceed 4GB file size

Be between one second and 241 minutes
When to use Facebook video ads
Facebook video ads can be used the same way images can, but cost more to run with a chance of greater return on investment.
Start a Facebook advertising campaign with Bloomtools
Keen to start your Facebook ads campaign but not sure where to start?
Bloomtools has a few locations across Australia and have been in the digital market and website design space for over 15 years. We've been working with PPC and social media advertising for a while now, too, and can't wait to help you start your campaign and generate real measurable results.
Give our Gold Coast head office a call now at (07) 5636 3700 for a complimentary consultation, in which, you can tell us about your favourite Facebook ad type and we can design and manage a strategy for you.
Contact us online or book an appointment today.