Essential Google Tools To Grow Your Business
Posted on 19 November 2020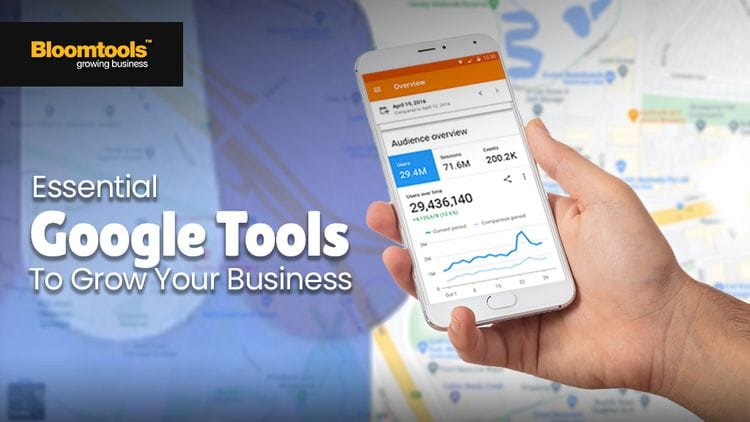 By now, most people are pretty familiar with Google as the search engine powerhouse bringing us the answers to all our queries, from the standard to the obscure.
But did you know Google also has a range of tools outside of the search engine that help grow businesses?
Many of these tools help you save money, increase the efficiency of your marketing efforts and deliver overall better results for your website.
We've put together a list of a handful of our favorite tools for accelerating growth to help you do the same.
1. Google My Business
We're a big fan of Google My Business here at Bloomtools. If you're serious about having your business found online, this tool is a necessity.
Google My Business (or GMB as it's informally known), is an easy-to-use tool a business can use to manage their online presence on the Google search engine page. With GMB, you can manage what users see about your business when they're searching for your products or services.
What's included on your GMB page:
Your business name & the category/industry of your services or products
Business location & address
Contact information
Opening hours and popular visiting hours
Links to your website and other channels (Facebook, Instagram)
Images & video
Reviews and star ratings
So, why does GMB really matter?
There are 3 key reasons why it's so important.
Potential to increase your visibility in the Google search engine
Increases traffic to your website, social channels & business
Receive greater insights into your audience & traffic
For tips on optimising your Google My Business and maximising your first point of call in the search engine, click here.
2. Google Chrome
Internet browsers are always a contentious topic of debate, much like the old Apple VS Samsung argument. There's always die-hard fans of each browser and those who don't care as long as they're connected to the Internet.
In the Bloomtools office, we're avid users of Google Chrome, and that's probably how it'll stay.
Google Chrome supports the industry standard for the Internet, which is not something that can be said about all browsers. This means those who use Chrome are less likely to experience errors on webpages and enjoy a faster connection.
Many of the required updates are done automatically, which means your browser will never become outdated.
Another reason we're big fans of Chrome is the built-in security. It's a safe and sound browser with malware features and phishing protection as well as built in warning messages before you visit a website that's a little suspicious.
It also has customization options through apps and extensions to give you a more personable feel to your browser.
Chrome is available as a free download for Windows, Mac and Linux.
3. Google Search Console
Previously known as Google Webmaster Tools, Google Search Console is a collection of useful tools and resources to help monitor the performance of website performance.
Whether you're a website owner, digital marketer or SEO specialist, Search Console has several benefits worth noting:
You can track the progress of your content marketing strategy
Integrate it with Google Analytics
Utilise site crawling so your site can be indexed by Google
Learn more about your site's mobile usability including speed
You can track the SEO performance of your website
This collection of user friendly tools provides all the necessary data you need to really reap the benefits of your digital marketing efforts.
4. Google Ads
Google Ads is one of the most successful paid advertising tools. After revolutionising the pay-per-click (PPC) space almost two decades ago, this type of advertising has the potential to help grow businesses small and large.
Google Ads provides a competitive edge with some hard to ignore benefits including:
Highly measurable digital marketing tool
Drives quality leads to your website and business
Potential to increase sales and conversions
Target highly defined audiences
PPC delivers faster results than SEO, however, PPC and SEO are an effective integrated approach to marketing
Work to your own budget & have clear control of your advertising expenses
The results tend to speak for themselves - businesses that use Google Ads in their marketing strategy typically earn an average between $2 in revenue for every $1 they spend on Google Ads up to $8 for every $1.
How does it work, though?
To put it simply, the tool works by the advertiser paying for each click their ad receives in the Google search engine. (You can learn more about how Google Ads works here).
If you're looking to generate more leads to your business, this is one of the most effective ways to go. When combined with traditional marketing and organic SEO, you can maximise your exposure in the search engine over your competitors.
5. Google Analytics
It's one thing to have a strategy for your website and marketing, but it's another to know if this strategy is effectively working towards your goals. With Google Analytics, you'll gain valuable insight to how visitors to your website are behaving.
The analytics package shows you where visitors are coming from, how long they spend on any page on your website and where conversions are taking place. Armed with this data, you can refine your website where necessary and maximise your results.
But the benefits don't end there.
It's free
The data is collected automatically - Google does all the work for you.
You can customise your reports to align with your goals, picking the dimensions and metrics and how you want them displayed.
Integrates easily with other tools like Google Ads and Search Console.
Measures the internal site search so you can uncover areas that hold opportunity for growth within your business.
Helps you understand why visitors are leaving your site.
Helps you better understand your demographic, including age, gender, interests, devices and location.
Learn which social platforms to target.
If you're already a Bloomtools client, this would have been set up for you by our team.
With these Google tools, you can accelerate your businesses growth and get ahead of the competition. For more advice on ways you can boost your business, feel free to contact us at (07) 5636 3700 for more information, or book a consultation with our Google and digital marketing specialists today.