Google My Business Optimisation Tips
Posted on 9 July 2020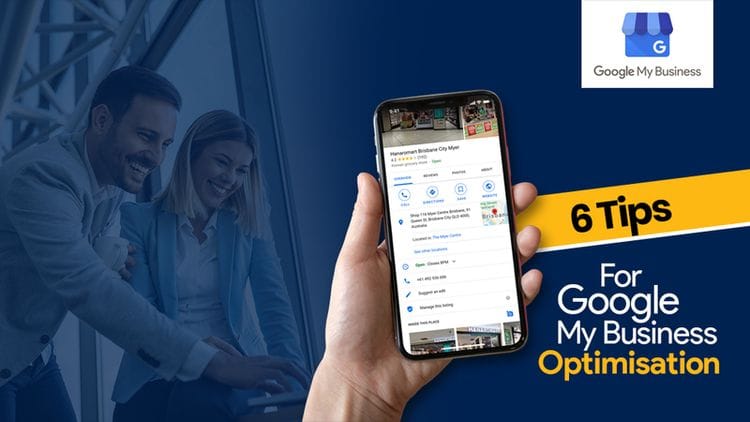 Owning 92% of search engine market share, Google is without a doubt the powerhouse of the internet search industry. One key component of search engines in 2020 is how it influences purchase behaviour. In the last year, 33% of people used the internet to find a local business daily and 16% multiple times a week. When potential buyers are searching for services or products like your own, you want to make sure you're being seen. One way to do this is to optimise your Google My Business profile.
Google My Business is an easy-to-use tool for businesses to manage their online presence on the Google search engine and is growing rapidly in marketing value - it's considered the most powerful tool for local search marketing (which we discussed as a necessity here) even more so than traditional search engine tools.
3 Reasons Why Google My Business Matters:
Increased visibility in the search
Increased traffic to your website, social channels & business
Receive greater insights into your audience & traffic
Think of your Google My Business profile as your first impression to those making a search. Before potential clients even reach your webpage, they're developing an idea of your business from your GMB. It's also possible they never make it to your webpage and instead will convert based on this profile. While there are many factors that contribute to how GMB ranks businesses, the key three are relevance to the search, distance from the searcher and prominence (reviews, updated photos & regular updates).
Key features of your GMB profile:
Your business name & category
Address
Contact information
Opening hours
Links to your website
Images & video
Popular visiting hours
Reviews
Star ratings
That's a lot of key information in one place and can indicate to a customer almost automatically if they want to be in contact with your business, which is why it's important this profile is optimised, updated and correct.
Tips To Get Your GMB Optimised:
1. Claim Your Profile
If you haven't already, claim your GMB profile. This is the only way you can manage and optimise your own listing. By doing so, you give you and your team the ability to upload your own photos, edit information, reply to your reviews, use Google Posts and receive assistance when needed from the team at Google My Business. It might seem like a non-issue to leave your GMB listing unclaimed, but you can find yourself in some hot water if you don't. For example: if you leave your listing unclaimed, it runs the risk of another business claiming the listing or editing the information, leaving it incorrect and leaving a bad impression to searchers - and you won't even be alerted of the changes.
2. Optimising your business category:
While it seems like the most obvious step in optimising your GMB profile, it's most often a step overlooked. So why is it so crucial? The choice of category indicates to Google when your business is relevant to a user's search. Additionally, you can view what your competitors are listed as when you search for them on Google Maps - you can see the primary category they've chosen listed underneath.
3. Strong visual elements:
Think about what you look for when you're searching for a product or service. Do you enjoy seeing clear, quality photos of the business? Does this influence how you perceive the business and how you make your purchase decisions?
Photos are another huge factor in the first impression between you and the customer. Low quality photos reflect poorly on businesses and can ultimately make or break a conversion. Not only does imagery help you build your branding, it also humanises your business and helps create more appeal. In order to optimise, ensure the photos on your GMB are of the highest-quality and showcase what it is you do best. It's helpful to crop them to ensure they're displayed correctly both on mobile and desktop. If you have any videos, they can also be uploaded as long as they are directly related to the place of your business or the people who work there. Uploading your own photos also helps Google certify and legitimise you as a business.
4. Local GMB features:
As mentioned earlier in this article, local SEO is one of the fastest growing and important marketing tools. With 86% of consumers relying solely on the internet to find a local business, it's clear why it's important to keep local SEO at the forefront of your marketing strategy. Ensuring your name, address and phone number on your GMB listing is correct and up-to-date is essential - it also encourages your business's information to be pulled and displayed by the search engine. Proximity to location is a key factor Google takes into consideration when displaying businesses, so this step really is crucial!
5. Utilise your reviews:
Reviews, good or bad, are absolutely essential. Too many business owners don't bother to engage with their reviews, leaving behind the opportunity not only to optimise your profile but to show potential customers you care about their experience. Additionally, optimisation isn't the only outcome of this step - 93% of customers say online reviews influenced their purchase decision so it's a win-win when you take advantage of the review feature.
While it might seem daunting to even think about responding to negative reviews, it's undeniably important. Previous studies have found that responses to reviews reflect positively on how a consumer views a business, particularly when responses are provided to negative reviews. It's important to note though, responding to negative reviews need to be done so in a considerate manner - while it's a tough and unenjoyable task, it's important to reach out to the customers to apologise and empathise. Remember - other potential customers will see your responses and create an impression of you based off of them.
To get more reviews on your GMB, it's simple: just ask!
However, it's important to make sure there is no offer, solicitation or incentive given in return for reviews - this can land you in hot water and is illegal in many places.
6. Use the 'post' feature to promote yourself:
Posts on your GMB allows you to create content directly onto Google. While a fairly new feature, it's one worth putting in to practice. All you have to do is include a photo with a well-optimised thumbnail and utilise accompanying text that's promotional.
To summarise, taking the time to optimise your Google My Business profile is worthwhile. Remember, this is most often the first interaction a customer will have with your business, so it's important to make a good first impression.
Key Takeaways:
Optimising your Google My Business profile is equally as important as your website optimisation.
Attract more local clients with this powerful local SEO tool.
Visual elements are equally as important as everything else.
Utilise your reviews - reviews encourage the search engine to show you first and reflect positively on the business.
Your profile matters for increased visibility in the search, increased traffic and greater audience data.
Make sure your GMB details are correct and updated regularly.
If you don't have a Google My Business profile or want help optimising your listing, feel free to reach out to one of your internet marketing specialists on (07) 5636 3700 for more information, or book a consultation today.