Why Google My Business is a Must Have
Posted on 5 September 2019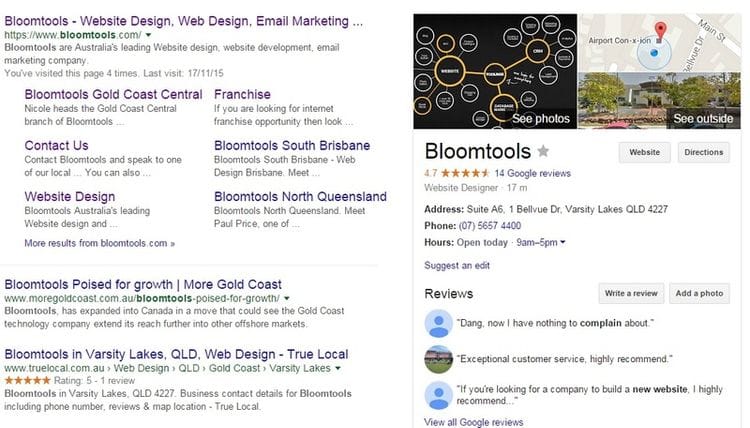 Why is Google My Business so important and why should your business invest time into it? There are lots of reasons why!
Why Google My Business Rocks!
Unlike almost every other successful marketing tool, its FREE! Yes, you read that right.
It truely is the ultimate business directory, generating Google search results and making your information available to potential customers instantly.
It is clickable, so online viewers can go to your website or call you in one easy touch.
The information is presented in an appealing and attractive way on any device, including smartphones.
You can make it work for both local and online businesses.
You can deliver your point of difference in many ways, including being able to post pictures and videos.
It incorporates Google Analytics so that you can see all the stats and figures.
It increases your website traffic, store visitors and revenue.
Customers can read and add reviews, putting word of mouth marketing at the forefront of your business.
It is owned by Google - so essential for every business who wants to be found on Google.
Believe it or not, there are even more benefits than that! Like, it increases the chances of your business being displayed higher in Google search results.
New Google My Business features for 2019
Google is giving power back to local businesses and you should be taking advantage of it, especially as it is a free service. Here's what you should include on your Google My Business profile to maximise your chances of getting on the first page of Google.
First things first. NAP. That stands for Name, Address, and Phone Number. Make sure you include this information and even more importantly, make sure it is consistent with the same exact format you use on your website, online directories, and other online platforms your business is listed on. E.g. If your address is shop 4, 28 be sure to always format it the same way. Don't change it to read 4/28. Same thing with your phone number. If you include an area code, make sure you include it everywhere you add your phone number.
Claim and verify your listing if you haven't already. Get started here: https://www.google.com/intl/en_au/business/
Complete every field that's relevant for your business.
Photos. Upload photos of your service or product, your team, your place of business. Change the name of each file before you upload them to include your business name, a keyword related to the image, and/or location! Put in your calendar, to add at least one photo every 2-3 months.
Videos. Yep, you can even add videos to your Google My Business page. No need to worry about making a fancy production, just whip your phone out. Most smartphones on the market have excellent video quality. GMB has an app, so you can upload photos and videos direct from your phone.
Reviews - you know how important this is. Have a strategy in place to get your happy clients leaving you reviews. See our blog post Google My Business - Get more reviews
Update your listing each month with news. Tip: it's a great place to advertise special offers! And post teasers for your blogs and events!
Contact your local Bloomtools Internet Specialist today, we can help you get Google My Business working for you business.
Other articles on this include:
Increase your rankings in Google my Business
Is Google going to delete your My Business page?
Localised SEO: Get your local business ranking higher


Author:
Tracey Voyce
About: With more than 30 years business management experience, Tracey Voyce is the CEO of Bloomtools. Tracey has owned and managed many businesses and spent several years training and motivating coaches at the world's largest business coaching franchise.
Connect via:
LinkedIn