How Organic and Paid Search Work Together
Posted on 2 July 2020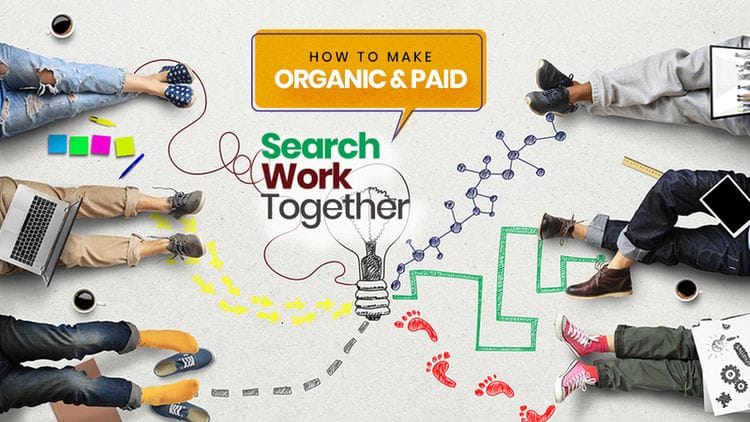 If you've got a digital marketing strategy in place, it's likely you're engaged in organic search engine optimisation (SEO) or paid search (PPC) - for some of you, maybe even both! With over 3.5 billion searches conducted per day, that's a lot of traffic going places on the internet. If you're not already diversifying your search strategy, you're missing out.
Applying an integrated SEO and PPC strategy has a multitude of benefits you can take advantage of. Both SEO and PPC strategies have similar objectives which means when leveraged together, you can maximise your outcomes for both, ideally saving you time and money.
While both SEO and PPC are an aspect of search engine marketing, they're two different categories, though equally as valuable.
How SEO and PPC Differ
Organic Search (SEO):
SEO refers to on-page optimisation that exists with the primary intent to help your website appear high in the search engine rankings. This strategy involves utilising keywords and content throughout the site to indicate to search engine crawlers that the website is relevant to the search term.
Paid Search (PPC):
PPC refers to pay-per-click advertising strategies which includes anything that a business pays for, from Google Ads to Facebook, YouTube or Instagram advertising. These ads direct searchers to landing pages on websites.
Integrating these strategies can have several benefits:
Improvements in organic traffic
Improvements in paid traffic
Save costs (including in ad spend)
Improve profits
Reduce resource usage
Save time
Improve opportunity for consumer engagement
Improve exposure
But if these categories are so distinct, how could they be used together?
Tips To Help PPC and SEO Work Together
1. Maximise Your #1 Ranking Spot
Arguably, this is one of the most important and exciting advantages of an integrated approach. While it's a fantastic result to rank first organically in the search engine for a specific term or keyword, this doesn't mean you don't need PPC marketing.
It would be tempting to cut PPC out of your marketing mix once you've achieved positive organic results, but it's important to keep in mind that the top rankings in the search engine are most often ads before any organic results appear. Of those ads, 41% of clicks go to the top 3 paid ads on the search results page and we know most internet users are not interested in scrolling very far to get what they're looking for, so it's important to keep both of your strategies in motion to maximise visibility.
Not only will this encourage an increase in traffic, it'll show potential customers that you're more important and relevant to their search than your competitors.
2. Leverage Your Keywords
Both PPC and SEO require the right keywords to maximise optimisation. There's several benefits of using an integrated approach when it comes to your keywords. If you're new to SEO, it can take quite a while to gauge how effective your efforts have been, however, PPC gives more immediate results - this means you can use proven, profitable keywords from PPC as guidelines for what to use in your SEO. Looking at click-through-rates and quality scores provided by Google, we can insert these results into factors that help optimise SEO, such as titles and meta descriptions.
Additionally, using an integrated approach can uncover terms and keyword ideas that you might've not considered prior. These insights in particular can provide long-tail search terms which are known to have click-through-rates 3-5% higher than generic search terms. They're also becoming increasingly important with the growth of voice search in the digital marketing realm.
With the insights from both strategies, it's easier to create more accurate messages to communicate to potential customers. Additionally, both PPC and SEO keywords require ongoing effort and attention so it's a time saver to have both sets of data to make quicker, more precise decisions.
3. Improve How You Target Your Market
PPC strategies, whether they involve Google Ads or paid social media advertising, provide tools that allow you to target your ads to your audience. Overtime, these ads provide very specific data and distinct insights that you can use to really tunnel in on your most valuable demographics. Though this information is useful in the continued targeting of your paid advertising strategy, it's also useful for organic search.
Sometimes it can be difficult to come up with fresh, relevant ideas to create valuable content for your customers. With this PPC related data, you can create content that prioritises the interests and demographics of the market interacting with your ads, ultimately driving your organic search as well.
4. Support Your Paid Campaigns With Organic Content
Paid campaigns are exactly that... paid, which means there's usually a greater financial investment upfront than you'd find with organic search, as you pay for whatever clicks your ads receive. However, this doesn't guarantee a return on your investment every time. Think about what you want to see when you personally click on an ad - you're most likely expecting a website to load with content that answers your search query, adds value to you or that allows you to feel encouraged and comfortable with following through on a purchase. Focusing on answering the particular problem a potential customer has and how your product/services will fix that problem is key to making a conversion.
This is where your organic content comes in to support your paid campaign - ads will drive clicks towards your content, but if your content doesn't live up to your ads, you could lose out on a conversion or potential customer - you want to ensure your PPC investment isn't wasted.
5. Learn More About Your Competitors
Competitor data is relevant here because your competitors play a big role in rankings and the costs of investing in both of these strategies. The insights from these campaigns about competitors can help you scope who is investing and focusing on the most in their PPC strategies and SEO. Additionally, you can see the areas where the market is underserved and can be targeted.
Key Takeaways:
Increase your search engine ranking visibility by maximising visibility through both PPC & SEO.
Leverage your keyword results to uncover keywords you didn't consider before, especially long tail search terms.
Know which keywords are profitable from PPC results and then implement them in your SEO strategy.
Target your audience more specifically with SEO optimised content based on successful PPC results.
Quality content created for organic search purposes supports your paid search campaigns, ensuring money is invested wisely.
Learn more about your competitors strategies through PPC & SEO insights.
Overall, an integrated approach can be leveraged in several ways to maximise your resources and efforts, ultimately, bringing better results. Time is money so anywhere that you can take advantage of leveraging both strategies together is of the essence.
If you're interested in learning more about SEO or PPC services, feel free to call us at (07) 5636 3700 for more information, or book a consultation today with one of our marketing specialists.