SEO & Website Design for Voice Search and Smart Phones
Posted on 15 July 2022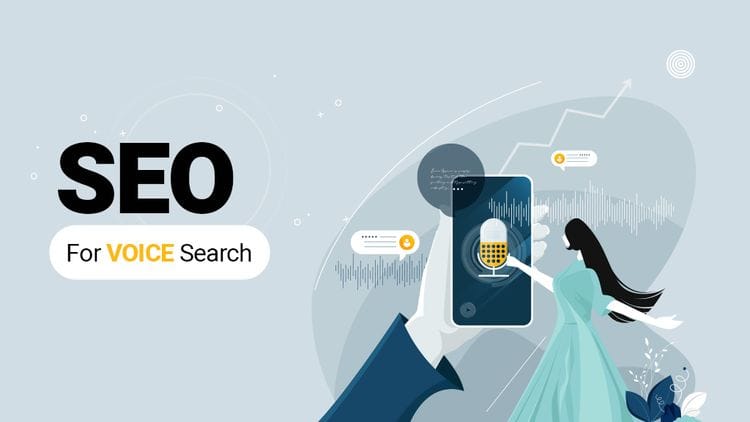 Hey Google, is voice search important for SEO?
Is voice search worth optimising for?
The digital world evolves quickly. So quickly, that it's hard to tell which growing trends are here to stay and which are just fads.
It's impossible for you to risk the investment of time, money, and effort into every technological advancement that passes by. But, at the same time, if you're at the forefront of a trend that's here to stay, your business will benefit hugely in the long run by getting in early.
Well, here's some good news; voice search is here to stay.
Voice search statistics
If you're not convinced, here are the voice search facts and statistics, directly from Google, The Web Index, and BrightLocal.
Nearly 30% of the global online population actively used voice search in 2018 and was expected to grow to 50% in 2020 (it did).

46% of users use voice search daily to learn about local businesses.

65% of 24-49-year-olds use voice-activated devices each day (smart watches, home devices, smartphones)

58% of consumers used voice search to learn more about local businesses over 2016-17 (Only five years after voice search was released).
What is voice search? (with an example)
How voice search works
Voice search is simple because it's conversational. If you can ask and answer questions, you can optimise your website for voice search.
Voice search works by pulling apart questions that readers ask their devices and finding the closest answer with the best user experience to display. To find the most accurate answer to the user's question, the search engine will use the following variables:
the location of the business or service

how optimised the service's website is for mobile devices (speed and usability)

how accurate and recently updated the Google Business Profile of the service is
Example of how voice search works
So, if a user were to ask their device, "Where can I find a digital marketing service near me?", the device would:
Determine the location of the user and the digital marketing services available nearby

Filter out the websites that aren't optimised for mobile users

Find the most optimised Google Business Profiles of the remaining and list them for the user (usually with Google Maps).
Beyond that, it's up to the user to choose between the available services that Google displays. So, it's important to write eye-catching copy and try to optimise your content to feature in rich snippets.
How to optimise your website for voice search
Use specific and conversational phrases for your content
As mentioned above, users talk to their phones and smart devices the same way they would talk to a human. When they search for services, they ask questions.
So, if your website content is structured around questions, you have a higher chance of answering voice search queries.
For example, a user might ask their voice search assistant: "what's the best way to cook tofu?"
So, if you have a page on your website or a blog, you might want to structure your content and headings in one of the following ways:
"The Top 10 Ways to Cook Tofu"

"Easiest Tofu Recipes Anyone Can Try"

"Tasty Tofu Recipes: 10 Ways to Cook Tofu"
For a real example of a voice search-optimised page, we put the example to the test using Google Assistant. Jessica in the Kitchen's blog was displayed and read back to the user, along with a few more questions that they may follow up with.

Improve your website speed
If your website is slow, Google won't want to show it to voice search users that are likely relying on mobile data or wifi. Google wants to provide the best experience for users, so much so that the team released a tool that audits your website speed for both mobile and desktop.
Mobile speed affects your SEO in a bunch of ways, and for voice search, Google wants to provide an answer within seconds.
How to improve your website speed:
Use fewer images and videos (or use a content management system with a file manager)

Reduce unnecessary tags from Google Tag Manager and within your website's script

Fix errors that may affect your website like 404 pages

Reduce redirect linking
Not sure if your website has any errors or issues? Grade it for free using our Bloomtools Free Website Grader.
Connect your Google Business Profile and optimise it
Your Google Business Profile is what will be displayed to users searching for services near them. To demonstrate, we've looked for the best cafes close to the Bloomtools head office on the Gold Coast:

Looking at the image, you'll see that Google uses the following to filter the search results:
Photos and imagery provided by the business

Reviews by users

Location of the business
So, to optimise your Google Business Profile for voice search, you should:
Try to get more Google Reviews

Provide as many photos or videos as possible of your business (location, interior, and exterior)

Add the extra features of your business like parking and amenities

Post updates and content regularly
Ok, Google, who can help me with my website and SEO?
For more great tips on improving your website and to learn more about search engine optimisation, check out the Bloomtools blog.
Bloomtools is a website design and digital marketing business that has been operating on the Gold Coast and across the country for more than 15 years, and we've helped small businesses achieve great things with our dedicated team of specialists.
Call our head office at (07) 5636 3700, or contact us online.