Aussie Businesses Can Apply For '.au' Domains | What That Means For You
Posted on 18 March 2022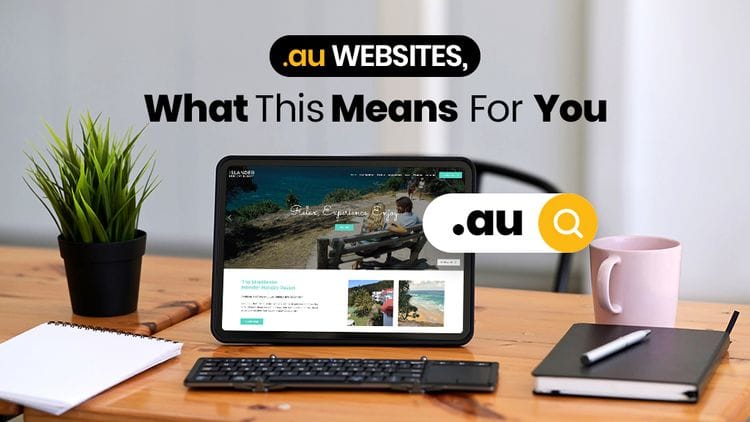 As of this week, small and medium-sized businesses across Australia will be able to apply for a new domain name ending in '.au' instead of '.com.au'.
The change will be live on Thursday, March 24 and if your website ends with '.com.au', you'll soon be able to look at changing it to just '.au', or securing your name, even sooner by securing your Priority Allocation.
Registering your domain name is easy, and you can have multiple domain names that link to your one site. You won't have to worry about additional hosting fees, either.
Why that matters: Is it better to end with '.au'?
Australia has been behind much of the world in allowing registrants to drop the '.com' and just use '.au' domain names. In fact, the UK, US, Canada, and New Zealand already offer their respective two-letter domains like '.nz' or '.us'.
There's some threat to common words or names in domains, and that's what a number of Australian businesses are concerned about.
This development means another business can use the same domain name by claiming the '.au' link.
Here's an example:
Michelle is the registrant of Bloomtools.com.au

Tracey is the registrant of Bloomtools.net.au

Brad is the registrant of Bloomtools.org.au
As of next week, if someone else wanted to use Bloomtools in their domain, they could, by using 'Bloomtools.au'.
But, Michelle, Tracey, and Brad can all apply for a '.au' website before them because they may havePriority Allocation. This means that they have extra time to secure their intellectual property.
Applying for a '.au' domain wouldn't cost additional hosting fees and it won't change your existing website's address.
Not sure if you have Priority Allocation? Book a consultation for a free, no-obligation chat, and we can tell you everything you need to know about your domain.
Should you change to an '.au' domain?
But what if your business's name is completely unique and you don't think anyone will try and secure the '.au' domain?
As fun and common as it is to say "dot com dot au", '.au' is a lot shorter and easier to remember.
Changing your URL to a shorter '.au' could provide a few benefits like:
A more memorable link for customers and clients

Branding opportunities

A stronger connection with an Australian target market
A shorter URL is also easier to read and will fit better with things like emails, texts, mobile search bars and more.
Is it worth applying for a '.au' domain?
While you might be on the fence on whether or not securing your additional domain will be worth it, it only costs a small amount of money in a one-time fee.
There aren't any additional hosting fees when you have more than one domain, and all previously provided links will still work.
How to apply for a '.au' domain
If you have a domain provider or website team like Bloomtools, simply give us a call. We can organise the ins and outs of the whole process and have you secure the claim to your domain name.
Give us a call about registering your '.au' domain at (07) 5636 3700 or book a consultation online now.