7 Key Elements of Effective Web Design
Posted on 10 December 2020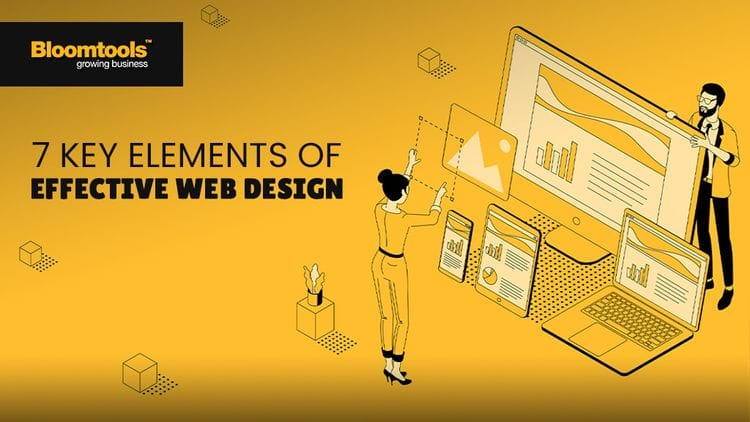 Knowing which elements to include on your website can become complicated, especially when you're trying to incorporate your business goals, marketing objectives and branding.
Additionally, how these elements are optimised for the experience of the users will influence the success or failure of your website.
When websites are designed with user experience in mind, conversions and sales have seen a growth of up to 200%.
We've put together a list of key elements to keep in mind when planning and designing your website, as well as elements to consider when you're doing general maintenance on your site.
Key elements of effective web design:
1) User-friendly design
When designing your website, your audience and customers should be at the forefront of your mind. Easy navigation encourages users to engage and interact, influencing whether your website is successful.
Your overall search engine ranking is also influenced by the user-friendliness of your website. If users are bouncing off without engaging with anything on your site, Google will recognise that there's something people aren't liking about your site. As a result, your organic rankings will suffer.
To avoid your organic ranking dropping, consider implementing the following key user-friendly elements:
A page layout that emphasises important parts of your site
Home page with clear site navigation
Site search option
Form entry
An aesthetically pleasing design
2) Mobile responsiveness
In today's mobile-orientated society, more business takes place on mobile than on traditional computers and laptops. A responsive website keeps your audience engaged longer and the longer they're on your website, the greater opportunity that they'll do business with you.
The importance of a mobile responsive website can't be stressed enough - 57% of internet users say they wouldn't even recommend a business with a poorly designed mobile website.
Responsiveness doesn't just end with mobile and desktops either; anything that connects to the internet, including tablets, also needs to be considered - the internet usership on tablets grew by 30% in 2016 and is expected to continue to do so.
With mobile devices accounting for nearly 2 of every 3 minutes spent browsing online, it should be of high priority that your website is responsive over all devices.
3) A focus on SEO
SEO (search engine optimisation) is important for any business seeking success online, yet too often, businesses don't consider this until their website is already designed. With hundreds of thousands of websites already in existence, your pages must be optimised correctly to be competitive.
An SEO-friendly website is designed and built to allow the search engines to crawl easily across the site, exploring and reading pages, and learning more about how it should rank your website.
This aspect can become a bit more technical. At Bloomtools, our websites are built search engine ready, complete with regular SEO services on offer to get your website ranking higher.
4) Speed
When someone visits your website, their first impression of you is how long your website takes to load.
Internet users have grown accustomed to receiving information in a timely fashion. If your pages take more than 3-5 seconds to load, you can expect up to a 40% bounce rate - that's a lot of potential clients that won't even look at your website which is why speed should be at the forefront of your website design. Website speed also affects your SEO.
Keeping your website pages lean and functional are key considerations to creating a speed-friendly site. To do so, avoiding fancy flash items, music and large file sized videos is useful.
You can learn more about website speeds here.
5) Compelling content
Interesting content is a great way to encourage users to stay on your website. After all, information is what people go searching for and 38% of people will leave your website simply if the content is unappealing.
Crafting this content to provide information that helps your visitors, builds trust and establishes you as an expert in your field will help keep users engaged. Content is also important as it helps visitors learn more about your company and ultimately convert them into customers.
Anything from blogs, webpages and videos can be considered content on your website, amongst many other things - even TikTok videos and audio files are included! Content isn't just about giving visitors to your site something to consume but also providing them value, knowledge and even entertainment by crafting something of quality.
The formatting of your content also matters. Creating content that's easy to scan and easy to read will contribute to its success. You can do this by creating lists or bullet point key facts.
6) Calls-to-action
Having calls-to-action embedded on your website will add to the user-friendliness, as well as help convert visitors into customers. A call-to-action is a simple way to get people to take the next step on your website - it can be anything from a buy now/add to cart button to social media share buttons, "read more" or places to sign up for subscriptions.
The ultimate goal of a call-to-action is to give the user clear direction on what you want them to do, ultimately helping you achieve your business objectives, improve leads and raise profit margins.
When it comes to calls-to-action, placement matters a lot, which is why consulting a professional web designer can help you discover the most effective placements for your website.
7) Aesthetically pleasing imagery
Visuals matter. We mentioned briefly earlier about the importance of aesthetically pleasing design when it comes to your website's user-friendliness.
Another key aspect of this element is including high-quality, appropriate imagery that shows off your business, whether that be services or products, in the most effective manner. Your audience isn't going to feel confident in following through with a sale if their first images of your business are of low quality.
An internet specialist can also optimise this imagery to ensure search engine crawlers find it when someone is searching for your products or services.
Building an effective website depends on the overall usability and user-friendliness. Combining the aforementioned elements in your website planning, design or redesign will give you the best opportunity for online success.
Grade your website for free
Bloomtools free website grader is a free tool that analyses your:
rankings in search engines
Google Pagespeed score
mobile-responsiveness and user experience
optimal coding practices
and social media integrations
The tool is free of any price or obligation and its purpose is to help small Australian businesses compete online.
The report will be emailed back to you as soon as it is ready, along with some of our recommendations and tips to boost your website design.
If you want help implementing any of the above-mentioned elements on your website, feel free to get in touch with our website specialists at (07) 5636 3700 or book a consultation.