Hyperlocal Marketing: The Small Business Secret Weapon
Posted on 2 May 2022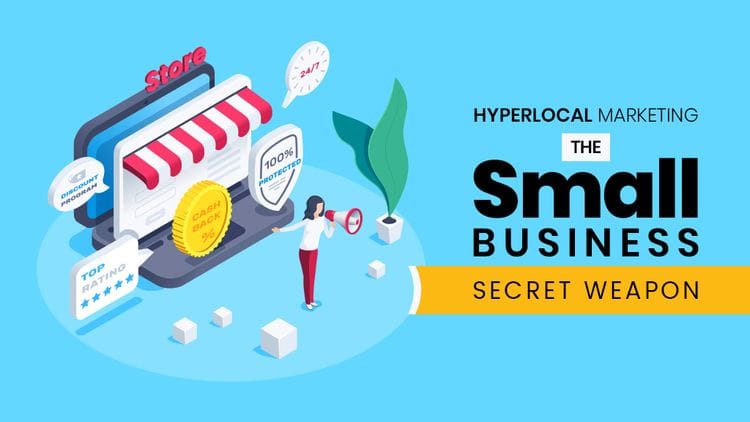 Small businesses love it, and big companies hate it, here's why.
What is hyperlocal marketing?
Hyperlocal marketing involves targeting a small market in a specific geographic location.
So instead of a marketing strategy targeting Australians between the ages of 16-64, a hyperlocal marketing campaign would target Australians that live or work in a specific suburb or a few streets within it.
Does hyperlocal marketing work?
Hyperlocal marketing works well when done right. For a hyperlocal marketing strategy to work, a business should identify:
Which specific area they want to focus on

How their product or service is relevant to this target

A pain (or selling) point to convince the target audience to purchase the product or service.

How they will reach or communicate with the audience
The easiest (and cheapest) ways to hyperlocal market
Signage
The oldest trick in the book is still in the book for a reason.
The average person sees thousands of ads each day online, but they don't notice or remember most of them.
Signs like billboards, a-frames, and posters are noticed longer and could be more memorable if you fill it with the right content.
Signs are most often seen by:
Foot traffic (people walking their dogs and exercising)

Motor traffic (people who have your business on their daily route)
If you have a local coffee shop on someone's daily route and advertise a special, why would someone Google for a chain coffee shop instead of stopping to see you?
Online business listings
Your Google Business Profile (formerly Google My Business) is incredibly cost-effective (it's free).
Google loves local businesses because it can list them and make audiences' lives easier. For example, say your business is based on Scottsdale Drive in Varsity Lakes (like Bloomtools). If someone were to search "(product or service) near me" while on Scottsdale Drive, guess who's likely to show up.
To hyperlocal market your business using your Google Business Profile, all you need to do is:
Verify your business listing and

Add your business location

Update your hours as they're changed

Post regularly

Link your business listing to a website and social media
Learn more about your Google Business Profile and recent changes in
Local SEO
But how do you make sure that you show up instead of big businesses or providers? You need to improve your SEO.
When it comes to SEO, big businesses usually have an advantage over small businesses. Fortunately, though, small businesses can find a niche and compete in local keywords.
And that's why big businesses hate hyperlocal marketing– they can't compete.
There's no way for big businesses to target every keyword and compete with every small area. Instead, they choose cities and even areas of states.
Oppositely, a local business can pick a specific suburb within a city or even a few streets within that suburb (like in our previous example).
To improve your local SEO:
Research keywords that are relevant to your hyperlocal market

Implement them using a content strategy

Evaluate success, then adjust your strategy accordingly.
The easiest way to get stuck into your SEO and content strategy is to do your research and be consistent. You can book a free SEO audit and determine where your site lacks today.
Many small businesses like yours get a helping hand to compete in the local market. Want to know how much local SEO and content would cost for your business?
We'd be happy to give you a free, courteous quote in a consultation. Together we can run through your website and current marketing strategies, and Bloomtools will recommend actions and prices on services we can offer.
Take a look at some digital marketing services we offer and how they can help you, or book a consultation online now.
If you're reading this between Monday to Friday and the hours of 9 am to 5 pm, give Bloomtools a call at (07) 5636 3700 to talk now.