Why You Need an SEO Review in 2021
Posted on 16 August 2021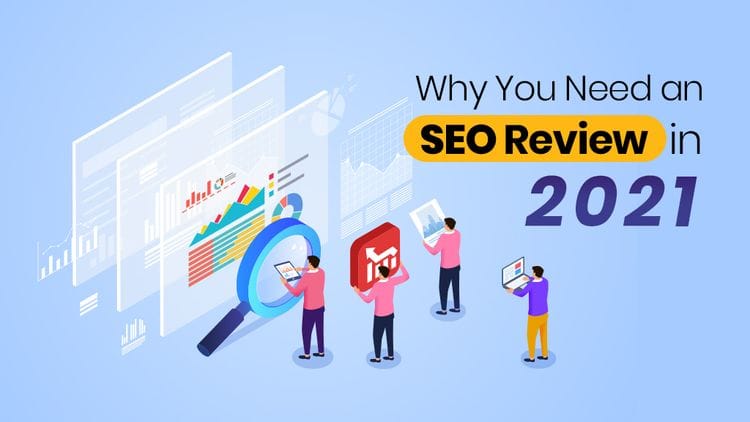 A business website is often the most important marketing tool for a business in 2021 and there's a good chance you've already invested a bit of time and money into it.
And so, it can be frustrating to see that your website isn't attracting as many customers as you'd like. This blog will help you understand why you may not be achieving your goals and show you how to get you back on track.
If you've got your website up and running, you've probably already heard about search engine optimisation (SEO) and how important it is. You're also probably aware that the rules and best practices are constantly changing which means it's nearly impossible to stay ahead of the competition.
If you're hoping to boost your website's performance and get the return on investment (ROI) that you were hoping for, a professional SEO audit is your next best step.
What is an SEO Audit?
When you hire a professional to conduct an SEO performance review, you'll receive a detailed overview of several different aspects on your site like:
Website content:
The content on your website is a foundational part of your SEO and is often one of the most important ranking factors of Google's algorithm.
When reviewing a website, an SEO specialist can identify pages which are missing quality content and will provide tips to improve it like specific keywords.
In addition to boosting your site's chances of ranking highly, quality content on your website will make the experience more enjoyable for your visitors and further boost your ROI.
Metadata and headings:
Often overlooked, many website owners don't understand the importance of optimised page titles, meta descriptions and headings in terms of SEO.
These are critical points on a page to utilise your targeted keywords and attract users who are searching for those terms in Google. SEO experts can provide tips on how to optimise your metadata and headings using specific keywords
Technical SEO:
Often the most important part of an SEO review, a technical SEO audit will cover the quality of your sitemap on the technical side of things.
An SEO expert will examine:
404 errors
The robots.txt file
Website speed
Mobile responsiveness
Overall quality of sitemap
Your SEO specialist will also suggest certain types of structure data for the site and let you know the best course of action to get your site on track.
Backlinks/off-site SEO:
Another key aspect of your SEO rank is the quantity and quality of links leading to your website from external sites (backlinks). The SEO specialist reviewing your website will be able to give you:
The top performing pages linking to your website
The total number of valuable backlinks your website has
A review of any potentially harmful links from risky websites which should be removed
From there, you will also receive recommendations on your next steps for attracting customers by making your website available through more backlinks.

Choosing Which SEO Audit is Best For Your Business
You should determine which agencies are providing the best results and not taking advantage of their customers. Here are some questions to ask before going through with your SEO audit:
What services are provided in the SEO review?
Your SEO audit of choice should consider the services listed above at the very least. You should also check if they offer services like:
Keyword suggestions
Site architecture/navigation
Landing page structure
Conversion optimisation
Competitor analysis
Is the review done manually or by using an automated program?
When you search for SEO reviews or audits online, you'll probably come across a lot of very cheap and automated options. While the price tag is likely appealing, your return on investment probably won't be.
Many companies use a wide range of tools to analyse your SEO instead of just one and they will interpret this data and make suggestions for you.
Google also warns that hiring an ineffective SEO can cause risk and damage to your site and reputation.
So it's a good idea to make sure the agency you choose isn't just running an outdated program.
Is there further assistance once the review is provided, like a phone call?
Facts and figures are great when it's clear what they're referring to. Services like phone consultations are an opportunity to ask questions and get clarification on your statistics and recommendations.
Bloomtools SEO Performance Review offers this phone call with your experienced SEO specialist and provides you with those additional tips and services to boost your website's performance and get you your return on investment.
Bloomtools SEO Audit
Bloomtools offers all of the above services and more. Plus, we're happy to explain what we've found and how we can help you improve your business.
If you want your return on investment for your website, click here to book a consultation today or by calling 1300 399 399.