Why You Should Be On Microsoft Bing
Posted on 4 February 2021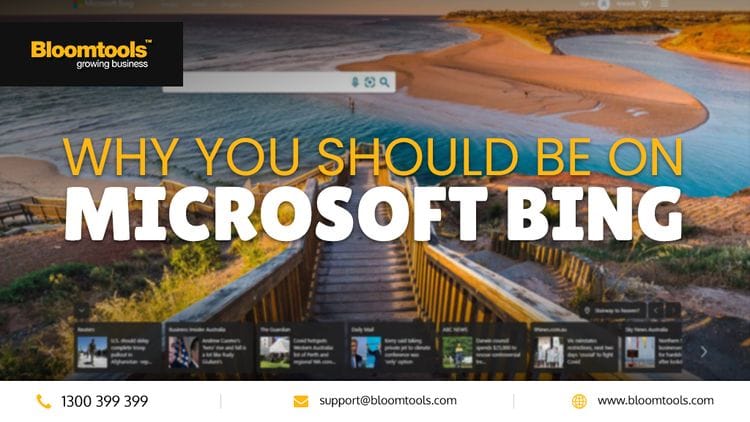 If you didn't already know, there's a possibility that the Google search engine could be removed from Australian users.
This possibility comes after the Australian Government's introduction of a news media bargaining code, which addresses the imbalances in "bargaining power between Australian news media business and each of Google and Facebook".
Put simply, this would see the likes of Google and Facebook required to pay to link their users to news content, which has raised the possibility of Google's withdrawal from the Australian market.
Perhaps you're wondering, are there alternative search engines to Google if this withdrawal does take place?
Yes! And Bing is one of the more popular choices.
If you haven't already, now's a great time to consider listing your business on other search engines as well - not only in the event Google becomes unavailable, but also to reach the market share competitors hold in Australia's search engine domain.
It's important you've made sure your business is prepared, which is why we've put together this quick guide on Bing.
So, what is Bing?
Bing is the second-largest search engine in market share, one of the most visited sites and the third largest search engine globally behind Google and Baidu.
Realistically, it's the closest in comparison to Google's functionality though it's user reach is not as big as Google's globally. Bing offers similar features including image search, social media integration, video search, and quick views of information about people, places and businesses etc. when users are searching.
Additionally, Bing features a local search option that ensures you can still optimise your local SEO which is integral for businesses, particularly those businesses that are brick and mortar. The Bing map feature also has all the standard elements you're used to.
In one month alone, Bing had 963.5 million unique visits and it already accounts for 4% of organic searches within the U.S.A., which is quite an achievement considering the large market share Google holds.
How to make sure your business is listed on Bing:
To get started with the process, visit the "Bing Places for Business" website or contact our team to help you.
Bing suggests that chances are they already have a listing for your business so what you have to do is claim an existing listing or if there is no listing, add a new one.
Next step, complete your listing profile.
Add all the information needed on your listing:
Photos of your business including services or products on offer.
Hours of operation.
List the various ways your customers can get in touch with you.
Alternatively, you can contact your local Bloomtools internet specialist to help you navigate the process.
Why is it important to ensure you're listed on search engines other than Google?
Google's pull from Australian users could happen without warning so it's important to be prepared by ensuring you're listed on an alternate search engine. If not, you run the risk of losing out on potential customers.
Bing is also the default search engine on the majority of Microsoft platforms, holding a significant audience share that you can capitalise on.
To sum it up, what are the benefits of listing on Bing?
Similar, if not, the exact features that Google has are also available on Bing.
You can reach the market share that's not using Google - Bing appeals to a different demographic, opening up opportunities for your business to leverage a different audience base.
Bing's efficient local search engine optimisation feature is equally as effective, particularly for brick and mortar businesses.
Bing is the default search engine on Microsoft based technology which currently has an estimated 1.5 billion devices in use.
Bing is integrated with other Microsoft tools such as Outlook, Microsoft Office, Excel, Team and Skype for a seamless experience.
If you're not already, now's the time to make sure your business is listed on Bing to take advantage of everything this growing search engine has to offer. Your local Bloomtools consultant can help you get started with a free consultation.
If you're looking for any other assistance with your online presence, learn more about our digital marketing services here. Alternatively, get in touch with us on (07) 5636 3700 or book your consultation today for more information.