2022's Top Australian Directories
Posted on 13 June 2022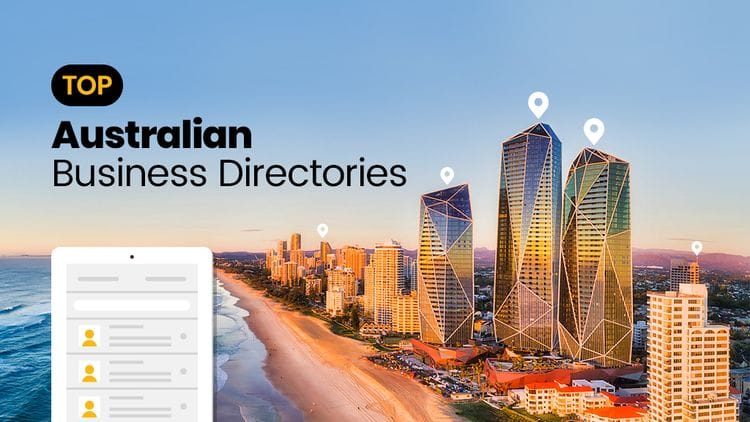 How to use directories to boost your local SEO score and rankings: FAQs
What is a directory
Before search engines like Google, the internet was made up of web directories.
Because you couldn't search for simple phrases like "Digital Marketing near me", you would need to use a web directory and filter your variables such as your location and the service you needed.
But with the rise of Google and the fall of directories (both printed and digital), they managed to stay relevant through Google's own ranking systems.
In SEO strategies, typically, when a website links to another, it shows that the two websites trust each other and are legitimate.
So, if your website has a trustworthy site linking to it, Google may consider this and improve your rankings on search engine page results (SERPs).
How to use directories
On a business directory, you should include:
A brief description of your business

Your contact details

Your website address

Your opening and contact hours
Other than the description of your business, it's important that the information you provide to search engines and directories is completely consistent.
And when choosing the URL to upload to a directory, make sure to only use the same one and the one you prefer.
It's a good idea to have a short URL for your website. If you have a ".au" domain name, this is a great opportunity to use it.
How many directories should you list your business on?
While you can submit your business to an infinite number of directories, you shouldn't connect with every single one. Instead, choose directories that are truly relevant to your business in terms of location and services.
And while not every directory listed below is specific to Australia, they are all applicable and can positively influence your business's SEO strategies.
You will also have to update your details on each directory when they change, which can be time-consuming when connected to so many.
Top 25 online business directories to use in 2022 (in order of domain authority)
1. Google Business Profile
Domain authority: 100
Link:https://www.google.com/business/
About Google Business Profile:
A Google Business Profile is an integral part of being successful on Google as it provides a wide range of opportunities to be listed on SERPs. More than that, your business profile counts as a directory and helps potential clients and customers find you.
2. Apple Maps
Domain Authority: 100
Link:https://www.apple.com/au/maps/
Apple Maps is a fantastic directory with high-ranking domain authority. Working similarly to Google Maps (a part of the Google Business Profile), it's a great opportunity to have your business found online.
3. Facebook:
Domain Authority: 96
Link:https://www.facebook.com/
If your business isn't already on Facebook, you should stop what you're doing and quickly change that.
Not only is it a high-quality link to your business, but, 80% of Australians use social media. And, that 80% could easily find your business and support it using the platform.
If your business already is on Facebook, you can improve it by making sure all of your details are up to date and correct and by regularly posting content to generate more traffic and reviews.
4. Yelp
Domain Authority: 93
Link: https://www.yelp.com/
Globally, Yelp is a heavyweight in the directory world and has an emphasis on reviews. More locally (in Australia), Yelp is newer to the game and many of us are still getting the hang of using it. In this case, it's a great opportunity to get your business ahead of the competition and listed.
5. FourSquare:
Domain Authority: 92
Link: https://foursquare.com/
Less known than the previous directories in this list, FourSquare is an independent platform with high domain authority and often updated content.
6. True Local:
Domain authority: 82
Link: https://www.truelocal.com.au/
True Local has been helping Australians find local businesses across the country since 2006 and having your business listing on a website of this age and authority can help them find you, too.
7. Tripadvisor:
Domain authority: 69
Link: https://www.tripadvisor.com.au/
Tripadvisor is one of the most well-known platforms for finding places to eat, stay, and explore.
If your business offers services including accommodation, food and drink, or experiences, you should list it here. As well as giving you a platform that can generate traffic, Tripadvisor's rating system can help your website's rankings online.
8. Brownbook:
Domain authority: 61
Link:https://www.brownbook.net/index
Brownbook is a global directory with nearly 42 million listings. And while it is global, visitors can filter websites by location and by search terms.
9. Infobel:
Domain authority: 59
Link: https://www.infobel.com/en/australia
Infobel is a sub-business of Kapitol which was the first business to develop an online telephone directory and publish it online. This directory has a wide range of categories, so there's a very high chance it's suitable for your business.
10. Yellow Pages:
Domain authority: 56
Link:https://www.yellowpages.com.au
The very same company that used to drop those heavy books on your doorstep, Yellow Pages has moved their directory to an online platform for Australians to find products and services.
The name alone still holds nearly as much weight as their printed books did, so you can count it as an effective directory to list your business.
11. Mumbrella:
Domain authority: 56
Link: https://mumbrella.com.au/
Mumbrella hosts a free service for Australian businesses to list their products and services in the media, entertainment and marketing sector.
While limited to the businesses and services it can list, its domain authority is high and it's a great opportunity for many Australian brands to boost their SEO strategy.
12. White Pages:
Domain authority: 54
Link: https://www.whitepages.com.au/
The not so long or lost cousin of Yellow Pages, White Pages moved online as well. And while its domain authority isn't quite as high as Yellow Pages, it's still a great opportunity for Australian businesses looking to expand their directory presence and website visitors.
13. Showmelocal:
Domain authority: 53
Link: https://au.showmelocal.com/
Showmelocal is a great free business directory that automatically detects the searcher's location and begins suggesting businesses based upon it.
It's a large platform, being offered to a number of different countries, but Australians can search specifically for their city and the service they're looking for.
14. Bing Places
Domain authority: 50
Link:https://www.bingplaces.com/
While Bing Places doesn't generate as much traffic as Google Maps or Business Profiles, it's still a must-have on your directory listings.
It's easy to create and sign up for. Plus, it's easy to update and edit your details as they change.
15. Hotfrog
Domain authority: 50
Link: https://www.hotfrog.com.au/
Hotfrog has a wide range of businesses with different services. There's a good chance your website will fit in just fine.
And, with review features for visitors, you can provide the best services to rank above your competitors.
16. Flying Solo:
Domain authority: 50
Link:https://www.flyingsolo.com.au
Flying Solo is a business community in which, typically, smaller businesses interact with one another and support each other with forums, resources and classes.
As a directory, it's used to find businesses that complement each other and is a potentially valuable backlink to your website.
17. Start Local:
Domain authority: 49
Link: https://www.startlocal.com.au/
Start Local, like other directories on this list, helps potential customers and clients search by both location and category to find the most reliable businesses in locations convenient to them. With a reasonable domain authority, this is a great opportunity to list your business.
18. Enroll Business AU:
Domain authority: 49
Link: https://au.enrollbusiness.com/
On this directory, potential clients and customers can create accounts, and businesses can create business profiles.
Similar to a few other directories on this list, the public can review services publicly.
19. Street Directory:
Domain authority: 44
Link:http://www.street-directory.com.au/
Like Yellow Pages and White Pages above, Street Directory might remind you of big, heavy books that you could carry around and hope to find the best services in certain areas.
And, this directory isn't much unlike the big maps you'd find behind the driver or passenger seat as viewers can use it by dragging the map and finding businesses by location (like Google Maps).
20. Word of Mouth:
Domain authority: 44
Link:https://www.wordofmouth.com.au/
With a more updated user interface than its competitors in this range, Word of Mouth is a great option for businesses looking to generate more search engine traffic. It's customer review-centric and often publishes lists like "top reviewed florists".
21. My Huckleberry
Domain authority: 42
Link: http://australia.myhuckleberry.com/
Though the user interface is a bit dated, its domain authority is reliable. My Huckleberry differs from the competition in Australian business directories because it uses it's own algorithm. This means it would be harder for businesses to forcefully rank themselves better, leaving it to customer reviews to show their worth.
22. Localsearch:
Domain authority: 41
Link: https://www.localsearch.com.au/
A Gold Coast based directory, Localsearch functions similarly to other directories listed but on a smaller scale and with slightly lower domain authority.
23. Dlook:
Domain authority: 40
Link: https://www.dlook.com.au/
A free business directory, Dlook offers public reviews and the ability to search for businesses by keywords and locations (suburb or postcode).
24. Aussie Web:
Domain authority: 31
Link: https://www.aussieweb.com.au/
Aussie Web works like most directories and is easy to sign up for. With the added features of most-popular categories and searches, if your business is in a competitive industry, you might have luck being featured here.
25. Cylex
Domain authority: 20
Link: https://www.cylex-australia.com/
On the lower end of domain authority, Cylex works like other directories and features the most popular searches on the home page to make it easy for viewers. The website is simple and easy to use and it's easy to add your listing.
How to choose the best directory to list your business?
Look for the highest domain authority
Domain authority is a score placed onto websites by search engines that loosely describes how trustworthy it is. A website will be graded from zero to 100, 100 being the highest possible rating.
The domain authority score is calculated using a few measurements including:
Your average bounce rate

The number of sites linking to your website (and how trustworthy they are)

How up-to-date or accurate the information on the website is
The domain authorities of the directories in this list were calculated in June 2022.
If you connect your website to another with a low-ranking domain authority or trust flow, it can negatively affect how search engines see your address.
Not sure how your website scores currently? Contact us for a free consultation and website grading. Or, simply put your website address into the Bloomtools Free Website Grader to get started.
Make sure the regions or areas are specific to your business
The directories on our list are Australia-wide and, regardless of your business location, you can use them to boost your SEO score and generate more customers or clients.
Many more directories are specific to smaller regions, but they may not be relevant to your business. And, if you try to put your website's link on irrelevant directories, you can negatively affect your SEO scoring.
If you're in a larger city like Melbourne, Sydney, Brisbane, or the Gold Coast, you can search for other business directories, but make sure to check their domain authority before sharing your details with them.
For help choosing the right directories, contact us.
Check how often the website is updated with new content and fixes
Many directories Bloomtools found had high-scoring domain authorities, but when trying to search for businesses in areas, we noticed a bunch of errors such as 404 errors and dead links.
Websites with errors like this will have a low SEO score, and having your website linked to them can affect your trust flow score (and affect your own SEO strategy).
Ranking better with SEO
For help building your search engine optimisation strategy, contact us. The Bloomtools team has dedicated content and SEO specialists to help you improve your website's rankings with high-quality, keyword-focused content and website improvements.
Get a quick-turnaround quote for an SEO plan on your website from the Bloomtools Head Office on the Gold Coast.
Call now on (07) 5636 3700, or by entering your details online.