Ways to Energise Your Online Presence
Posted on 22 October 2020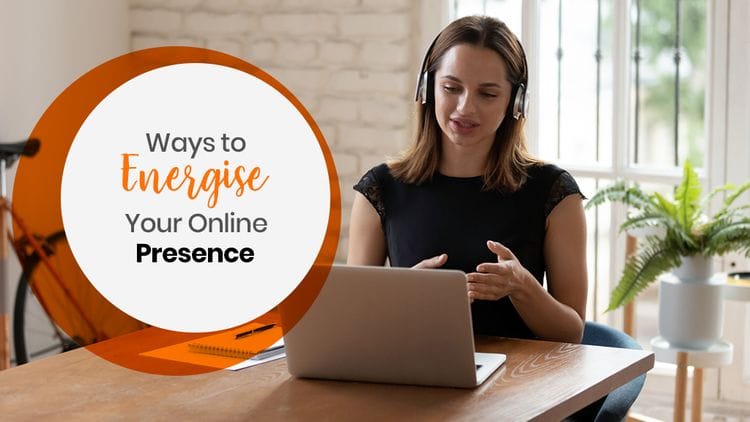 Are you worried your online presence has become stale? Are you looking for ways to generate greater engagement and interest in your digital strategy?
We've created a list of ways you can energise and strengthen your online presence, helping you build a following, encourage engagement and interaction and gain customers in the long run.
1. Build a captivating website
Your website matters. Responsive websites with the tools and features you need to not only attract an audience but convert them into customers is a pivotal aspect of strengthening your online presence.
Once you have traffic visiting your website, it can make or break whether or not this potential customer gets in contact with you. Your website having a positive user experience and aesthetically pleasing design is the most effective base to have.
For help building your website, book a consultation with our web design specialists.
2. Create a social media strategy
The power of social media is not to be underestimated. Designed for the mass sharing of content and information, social media helps increase traffic, grow brand awareness, help legitimise your brand and more. It's also, for the most part, free and ultimately cost-effective.
However, it's not enough to just have social media profiles that exist, you have to actively participate and engage in order to find success.
Making the most of your social media takes time and effort and is best done by creating your own strategy. Planning out what you're going to post and when is the most effective way of ensuring you'll stay on top of your channels.
With around 60% of Australian's engaging in some sort of social media and the trend far from budging, now's the perfect time to get your business on social. You can learn how to build your social media presence here.
Social signals indicate to Google that your content is of value to your target audiences which ultimately encourages the crawlers to rank you higher.
3. Engage in paid advertising
If you have some flexibility in your marketing budget, paid advertising opens up ample opportunity to improve your profits, increase customer engagement and boost your exposure.
Pay-per-click advertising strategies which includes anything that a business pays for, from Google Ads to Facebook, Youtube or Instagram advertising. These ads direct searchers to landing pages on websites and generally see a faster return in both data and results than organic traffic generation tools such as SEO (but, that doesn't mean SEO isn't as equally important!).
4. Focus on your SEO
SEO refers to search engine optimisation and is one of the most important tactics when it comes to strengthening your online presence. SEO can be quite complex and the algorithms used in search engines are constantly evolving, so it's important to keep up-to-date with the changes.
Organic traffic covers a proportionate amount of the digital space, which is why SEO is a crucial component to building your online presence. Focusing on SEO helps you rank higher organically (which appears more credible to searchers), leads to increases in traffic, conversions and engagement levels.
5. Create value for your audience
In order to profit from your digital marketing efforts, you have to focus on being customer centric over sales. Delivering knowledge and insightful information not only helps your customers but also helps your online presence.
Consider your customers pain points and problems - how can you provide the answers they're looking to the problem they're trying to solve? Think about how you conduct searches online when you're looking for something. Say you're looking for a solution to a problem you have that a product or service could fix, whether that's as simple as "landscaping services" because your gardens need some sprucing up.
Think about your customers pain points - think about how your service or product can solve those problems. This will keep searchers happy and reaffirm that you're the right business for them to work with.
6. Be consistent
When it comes to applying all of the above, it helps to stay consistent. While it'd be great to find success just from the initial application of these factors, improving your online presence requires repeated time and effort.
You can make this easier either by following a schedule and ensuring you plan ahead with your tactics. Alternatively, you can outsource to a digital marketing specialist who can take the time and effort out of your hands.
7. Think competitively
While focusing on improving your online presence, it pays to stay engaged in what your competitors are doing. Are there elements you could implement in your strategy that will be beneficial? Are you able to identify and gaps in what they're delivering that you can take advantage of?
If your competitors aren't providing the knowledge and information you think your audience needs and wants, this is a gap you can fill with your strategy.
Paying attention to what your competitors are doing can help you identify what works and what doesn't, which can often help you save time.
Key takeaways:
Start with a solid foundation - a responsive, aesthetically appealing website will do the trick.
Following a social media strategy to help build brand awareness and increase traffic through cost-effective methods.
Consider engaging and experimenting with paid advertising for faster results.
Focus on your SEO as a core aspect of your online existence.
Create value for your audience by providing knowledge and information that will help answer their consumer pain points.
Be consistent in your efforts - a one off attempt won't provide enough basis for your presence to grow.
Stay competitive and think competitively about your digital strategy by researching what others in your industry are doing.
Look for gaps in the strategies of your competitors that you can fill.
Whether you're just getting started with your online marketing efforts or are looking to re-energise what you're currently doing, these tips are a great place to get started.
If you're looking for help with any of the above, feel free to get in touch with our digital marketing and internet specialists on (07) 5636 3700 or book a consultation today.