DIY SEO Tips For Businesses
Posted on 3 June 2022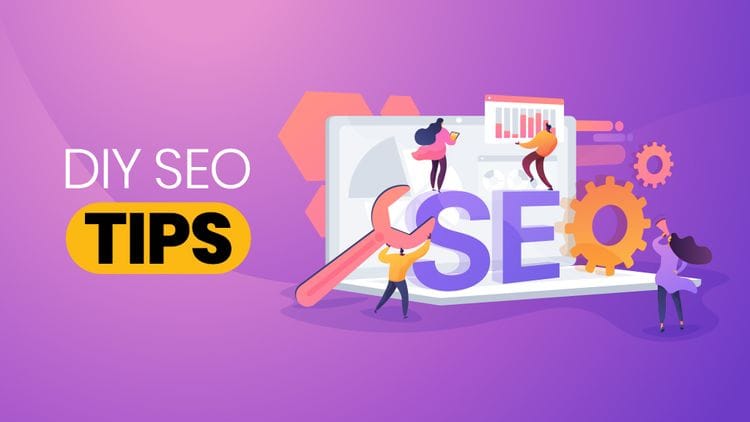 SEO and Your Website
SEO is at the heart of almost every digital marketing strategy. That's because it's:
Cost-effective

Results-driven

Great at giving you leads

Suitable for both big and small businesses
And when it comes to website design, SEO is at the heart of that, too.
If you're eager to use your own SEO strategy or optimise your website and content to get traffic, learn some simple DIY SEO tips you can try today.
SEO techniques you can try yourself
1. Produce new content
Content is both the easiest and most important part of your SEO rankings. That's because it can help you rank for keywords and generate backlinks, too.
You can easily generate new content by adding new pages and expanding the ones you already have. Typically, it's best to keep your pages between 200-1000 words so that it's easy to read.
And even easier, you could write a blog with ongoing content. Your blog could cover subjects that tell people the best ways to use your products or services. For example, if you were a florist, you could write blogs like:
The best seasons to pick flowers

The best plants to keep in your garden

How to make flower arrangements
2. Improve your website speed
Google directly considers the speed of your website when ranking it and showing it to internet users. That's because they want only want to show internet-goers the fastest, most responsive websites.
You can test your website speed using Google's own speed checking tool.
If you don't rank as well as you thought you might have, try the following tips to boost your website speed:
Avoid too many videos and images (and keep them at a reasonable size)

Reduce redirects and keep simple links between pages

Use a content distribution network
For more website speed tips, have a quick read of Why Website Speed Affects SEO.
3. Optimise your content to a local market
New content is great, and optimised content is even better.
It isn't hard to optimise your content for your local market. The best way to do it is to simply be yourself. Improve your website content by:
Including local slang that your audiences would search using

Dropping a few specific locations throughout your content
But, don't stuff your content with keywords. Google isn't silly and can tell when you're trying to be sneaky by filling your pages with things like locations, services, and phrases.
Keep it organic, be patient, and the results should come.
If you'd like a helping hand with writing, editing, or keywords, you can talk to a content writer and SEO specialist.
4. Grade your website using a free service
The Bloomtools free website grader is a tool that you can use to test your website's features like mobile optimisation, speed, coding and more.
Simply put in your website's URL and you'll get quick-turnaround results to identify your website's best features and those that could be touched up with a little bit of help.
5. Use your Google Business profile
Your Google Business Profile is a great, free digital marketing tool. And there are plenty of reasons to post to your profile.
Formerly Google My Business, Google made some changes to business profiles that affect the way internet users can discover local businesses.
One of the most common search phrases when looking for goods and services in Australia is, "near me". Essentially, your Google Business Profile helps pull your website's information and the content you post to it (including your location), to help show you to these potential leads.
The easiest ways to use your Google Business Profile to boost your leads include:
Posting regularly (you can link your blogs or special offers)

Keeping your details and contact information up-to-date

Encouraging and responding to customer reviews

Linking your website and other services to it
6. Link your social media to your website
Your social media pages are a great way to funnel traffic to and from your website. And the easiest way to get started is to link to it on your website throughout your content, and with quick links at the top or bottom of your page.
To get the most out of your social media efforts, create posts on social media to invite leads back to your website where they can shop for products or book your services.
7. Team up with other local businesses
You pat their back and they pat yours. Teaming up with other local businesses is a great way to generate leads through word of mouth, and is one of the best ways to hyperlocal market your business.
And more than that, you can actually use it to boost your SEO ranking with backlinks to your website.
Partners pages or recommendations to other businesses are an opportunity to link to new websites and have them link back to you. Using the right website software, you can make sure links open in new tabs or windows so that visitors aren't leaving your site when they check out your friends.
8. Have your website graded by a local SEO specialist
Tried a few local SEO tips already and curious to see the results? Bloomtools runs SEO audits for small businesses across the country and looks at local SEO results. We'll produce a detailed report showing your website's best features as well as all your current Google rankings and recommendations.
Learn more about our Search Engine Optimisation services or contact us to get your audit.
Or, if you're a talker and would like to call a member of the team, try between Monday to Friday, 9 am to 5 pm at (07) 5636 3700.