SEO Tips: 5 Simple Ways to Boost Your Rankings Today
Posted on 26 November 2020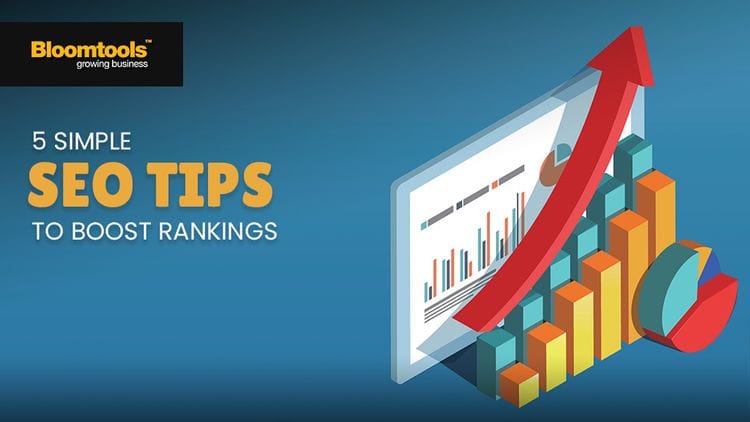 5 Simple SEO Tips To Boost Rankings
Optimising your website to rank higher on search engines is an important part of your regular website maintenance.
93% of online experiences begin with a search engine so even though SEO processes can oftentimes be technical and time consuming, they're an integral part of your online marketing.
We understand that a lot of small and medium sized business owners don't have the spare time to dedicate to regular SEO maintenance or learning the latest in what works and what doesn't which is why we've put together these simple tips to boost your SEO ranking today.
1) Improve your page loading speed
This is important for a couple of reasons.
When your page speed is too slow, Google will pick up on this and it'll ultimately harm your ranking.
Not only does Google punish this factor, but your users' experience will suffer as a result, impacting the way they engage with your pages. According to Google, 53% of mobile users leave a site if it takes longer than 3 seconds to load. When users bounce off this quickly, they're unlikely to return, potentially losing your sales and traffic.
The good news is, it's not a difficult factor to improve. (If you're a Bloomtools client, we can help speed up your page!)
2) Develop a link building strategy
Link building is an important part of any growth strategy and aims to improve your organic SEO results.
Internal links refer to linking from one page to another on the same domain and backlinks refer to building links that drive referral traffic back to your website from other websites. The strategic use of these links can help boost the performance of your pages ranking and increase your site's authority in the search engine.
Internal linking also allows for a better user experience, creating easier navigation around your website. Not only is this favoured by Google but it increases the likelihood users will spend more time browsing, engage more and improve the chances they will return. This all sends positive signals to Google about the value of your page.
Backlinking occurs when reputable websites display a link to your website - this type of link building is a little bit more difficult and can take dedication and time to achieve. One way to do this is by creating high quality content that others will want to refer to.
Links also indicate to Google what your website is about - this means it's important to link any blogs or pages that refer to your products or services.
3) Optimise alt tags
When you have images and video on your website, not only does it enhance user experience, but it also provides further opportunity for optimisation.
What alt tags do is provide a text alternative for whatever the content of the image or video is, this will help search engine crawlers find your website when someone searches for relevant content.
The three best practices for optimising your alt tags is to be descript, relevant and specific.
4) Create high quality content
Content is essential to an effective SEO strategy and is considered one of the most important ranking factors in search engines.
The trick to content is not just creating for the sake of it, but to create something of value to your readers; your audience should be at the forefront of your content.
When you create high quality content, it also increases the opportunity that people will link to your site (as a backlink like those mentioned above).
Types of SEO content you could create include product pages, blog posts, articles, lists, guides, videos, infographics and more.
You can read more about creating SEO optimised content here. Alternatively, hiring a professional copywriter to help with your body text to ensure you are hitting all your keywords and providing the information your users need to know.
5) Utilise social media
Google has confirmed that having a social media channel alone doesn't directly contribute to your organic SEO rankings, but evidence suggests that the social signals created by a channel are influential.
With the shareability and increased visibility involved in social media, the likes and shares create social signals that can potentially:
Distribute content further, increasing visibility
Increase brand awareness and reputation
Improve the longevity of your posts
Increase organic traffic
Some effective ways to utilise social media to improve your SEO is:
Keep your blog up-to-date and have share buttons on each post (Bloomtools clients automatically have these appear).
Don't be afraid to ask people to share.
Try hosting a social media contest, asking people to like and share your post.
Link or mention other local businesses that you work with or may find your content useful in your posts.
Engage with your audience and keep an eye out for any questions left on your posts.
If you want to learn more about how your current SEO efforts and strategies are performing, an SEO health check can show you the areas that are succeeding and areas that need some love and attention.
If you need help with any of the topics above that will help you grow your business or your search engine optimisation, feel free to get in touch with our internet marketing specialists on (07) 5636 3700 or book a consultation.